40 Day Affair with Your Self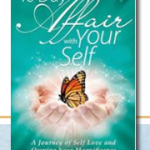 Are you ready to passionately have an affair with your Self and fall in love? I hope your answer is YES! This proclamation opens your consciousness to expand so you can be open and willing to receive everything you need to be support and guide you on your journey of self-love.
This is a journey about going within and bringing awareness to your feelings, your truth and the authentic you, who is waiting to be embraced and re-discovered.
You will not be alone on this journey unless you choose. Everyday you are encouraged and guided to ask your Soul, your angels, guides and loved ones in spirit to surround you and support you, as you heal and awaken to your true feelings about yourself and your desire to love and know Self.
When you say YES! to this journey you will receive a daily email with the spiritual intention and the tools you need to create and manifest your intention of self-love and owning your true magnificence. This will include:
Messages and teachings about the daily intention
The "I Love Me" meditation practice
The "I AM" Magnificence Affirmation
Messages from the Soul
Self Reflection Question
Daily image of the caterpillar transforming into the butterfly
A nighttime "I Love Me" meditation
Inspirational videos and meditations from Karen