Soul Mediumship®
You can connect, heal, and communicate with your loved ones in Spirit.
Yes, you!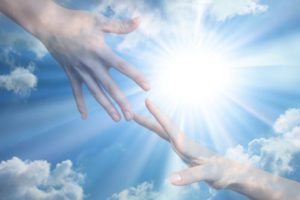 When I recovered from Thyroid Cancer at the age of 34 (over 20 years ago), I questioned the meaning of life. I read many books about the soul and its purpose. Everyday, with a deep desire for answers, I would ask for spiritual guidance, "How can I see into my soul and the soul of another?" This consistent questioning felt odd for me at this time. Suddenly, one day in meditation, I heard the answer to my question and the way to see into the soul revealed itself to me. This guided me to birth the unique and powerful modality that I now call Soul Entrainment® (entrainment means to synchronize as one). Since then, thousands have been empowered through this modality to tap into the power of their souls' wisdom where they can receive healing and higher guidance to answer their life's questions.
In 1999, I discovered another aspect of Soul Entrainment® when my sister, Gigi, fell into a coma after she contracted Streptococcus, the flesh-eating bacteria that destroys the tissues of the body. As I set my intention from my meditation room in Boston, I connected and communicated with her soul and I could hear her even though she physically laid in a hospital bed still comatose in Miami. When she passed two weeks later, I realized I could still connect with her Spirit and communicate with her through the techniques of Soul Entrainment™. My curiosity led me to study Mediumship so I could release any doubt about the continuity of life and therefore confirm that we can communicate and connect with our loved ones in Spirit.
Since then I have integrated the techniques of Soul Entrainment® with Mediumship to develop Soul Mediumship®; I have helped many re-connect with their loved ones who have passed so they, too, can grieve, heal, and receive messages from their loved ones. Through the power of hypnosis and the oneness of the Soul, they understand that their loved ones have truly never died and they can still re-connect with them through their soul connection and eternal love.
I am a medium and have witnessed many amazing mediums bring comfort and proof to people who have lost their loved ones, validating that the soul of their loved ones lives on and is still here. I will not deny the healing potential of Mediumship. However, Soul Mediumship® empowers you to experience and discover that you can make the connection to feel and hear your loved ones and to ask them any unanswered questions. It also guides you to heal and bring peace to unresolved grief and "stuckness" freeing you to move forward to experience more peace, joy, and purpose in your life.
Sound amazing and impossible? It's not, we are all souls in a human body and your loved one who has passed is still a soul who has merely left the shell of their body. The connection is achieved when you merge soul to soul through the power of hypnosis and Soul Entrainment®. Trust me, especially in private one-on-one sessions, with my support, those clients that didn't think they could make a connection, left amazed and grateful that they had a healing and profound visitation with their loved one.
I wanted to share below a testimonial from a profound medium, Rita Berkowitz, and her perspective of a Soul Mediumship® session that may support you:
This is a helpful and healing experience for the person who does not spend their day connecting with Spirit and wants to connect with a specific loved one.  Most people say after a Mediumship session, "I wish I could feel what you felt."  What one would experience is exactly that, the feeling of connecting with their loved-one, feeling the love and, if necessary, working through what still needs to be healed.  All of us can be healed in this way. All of us can connect to Spirit.  It is our birthright to stay connected to those loved ones on the Higher Side and through Soul Mediumship®, it is possible for anyone to do so. ~Rita Berkowitz Medium and Spirit Artist
How can a Soul Mediumship® session help you?
Re-connect with your loved ones who have passed
Confirm your loved one is at peace
Access unresolved grief to heal and move forward
Heal unresolved issues before or during the passing of your loved one
Hear, feel, and receive messages from your loved ones in spirit
Gain clarity from your soul to learn how you can move forward
Deepen the connection and communication to your loved ones in spirit in your everyday life
Release your fears surrounding death by experiencing the soul is eternal
What happens during the session?
In the first part of the session you will discuss with Karen the issues you are dealing with and who you would like to connect with during your session and any questions you may have.
Next, you will be guided into a deep relaxation and Karen will assist you into higher states of consciousness where you will easily and effortlessly connect with your soul and the soul of your loved one in spirit. At the same time, Karen becomes one with your soul and the soul of your loved one where she will tune in with her own intuitive and mediumistic abilities to guide and support you as you heal, connect, and receive messages from your loved one.
We will close the session by talking about your experience, picking cards, and discussing how you can move forward integrating and deepening the connection you made during your session. Karen records all the information and messages that are shared during your session and you will go home with written notes to review and integrate. We can also record your session and your recording will be emailed within days of your session.
Contact Karen to schedule a Soul Mediumship® Session
A Soul Mediumship session is one-hour long. You will receive notes or an audio recording of your session. Sessions may be in-person in Pembroke, MA or by SKYPE.
Please email Karen@Createheaven.com to schedule your reading and provide the following information:
Full name
In person or Skype session and, if so, what time zone you are in:
Phone number to contact to confirm
Day of week and time of day preference:
Have you had a reading or session with Karen before?
**Please note that at this time sooner availability is available for daytime appointments vs. night time and weekends.
Either my executive assistant, Sheree, or myself, will be following up with you.
Thank you! I look forward to connecting with you and your loved ones!
Contact Karen to book a group Soul Mediumship Session or Speaking Engagement
Karen is also available to do group sessions or speaking engagements with this intention. To contact Karen or receive a press kit, email karen@createheaven.com or call 781- 857-1444