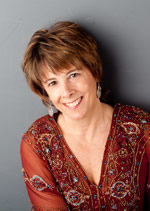 Karen Paolino Correia has been called "the real deal" and is known for her authenticity and her passion for her work. For two decades she has helped thousands of people around the world through her books, workshops, certification programs, and private sessions. Her spiritual journey started after a diagnosis of thyroid cancer in 1995. During her healing journey she had a spiritual awakening and transformation where she discovered the amazing power of the mind, body, and spirit to heal.  Fully recovered from the cancer, her life purpose to help others tap into this power became clearly defined. Karen has become an international and inspirational writer, teacher, and inspirational speaker.
Karen has combined her certifications in personal training, hypnotherapy, mediumship, and as an Angel Therapy Practitioner® with the development of her own training programs in Soul Entrainment™ and her Angel Messenger Certification courses. Karen's pure intention in all her work is to empower others to heal and discover their true magnificence.  She established her spiritual center for the soul, Heaven on Earth, in 1999 and then successfully grew the center offering a variety of healing and spiritual modalities and hosting guest speakers and teachers from around the world. In 2015, Spirit guided Karen to release the center so she could focus on expanding her teachings and the calling of Spirit globally.
She continues to facilitate her private practice which includes Soul Entrainment™ sessions, Angelic Mediumship readings, life coaching, and her mentorship program, through Skype, phone, and in person, in her Pembroke, Massachusetts office.
Karen is the author of four books:  101 Ways to Meet Your Angels (Adams Media, October 2011), How To Contact Your Angels (David & Charles Ltd., June 2011), The Everything Guide to Angels (Adams Media, October 18, 2009), What Would Love Do?  A 40-Day Journey to Transform Your Fears into Miracles of Love (Self Published, October 2005). Karen just completed her fifth book, A 40-Day Affair with Your Self, a Journey of Self-Love and Owning your Magnificence.
Karen and her husband Louie live in Pembroke, Massachusetts.
"I am passionate about my work and my pure intention is to empower as many people as I can so they can remember their true magnificence. Everyone has the profound ability to heal and manifest their true heart's desires, and I hope in some way that I can inspire them to recognize this. As a teacher and intuitive, I have been blessed with the opportunity to help thousands of people around the world and as I look forward into the future, I know I will passionately live out my mission and purpose as a messenger of love and healing, always with the intention to serve for the highest and best of all better than they could ever imagine."