Date / Time
09/28/2023 - 7:00 pm - 9:00 pm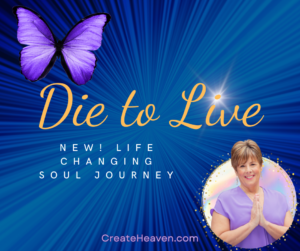 This past spring, during our weekend retreat, I was guided on our last day, to lead the group through a transformative, soul guided, experience that personally healed and changed me to my core. Many in the group, shared the transformative power of what they experienced as well.
I know this is a soul experience that has the potential for deep transformation and you will be called if you are meant to attend.
During this 2 hour event, I will guide you into the oneness of your Soul and your Divine Family of Many to a future imagined time when you are told….you have 3 months to live.
During this soul journey you will have the opportunity to…
Unveil and release core beliefs that keep you from living your life fully with more peace, purpose, and joy
Discover what choices and dreams can no longer be put on hold or wait until "someday"
Heal, come to acceptance, and make peace, with your past choices and relationships
Remember how loved you are and surround yourself in this love and support
Release the fear of death and allow your Soul to show you that love is eternal and receive the knowing and trust that peace awaits you
Leave this session with the feeling of clarity, awakened to what really matters and the knowing that life is precious and with a newfound sense of wisdom and aliveness that life is precious and you are here to live it fully and now is the time.
Date: Thursday, September 28th
TIme: 7:00 – 9:00 EST
Via Zoom
**This class will be recorded if you cannot attend live
Register Now!