Date / Time
10/04/2023 - 7:00 pm - 8:00 pm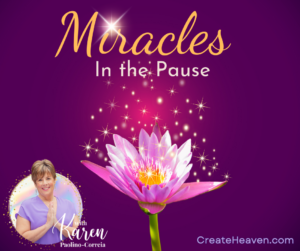 Abundant Miracles are here for you to experience when you learn to pause
Are you spending most of your time replaying the past and worrying about the future?
Are you truly present to recognize and be open to the miracles waiting for you?
Karen has some powerful and simple ways to help you take back your power to stop and pause in the present moment where miracles are abundant.
In this informative and experiential session, Karen will explain the "gift of the pause"and empower you with practices to help you pause to experience miracles in multiple aspects of your life…
Pause in the morning to set forth the miraculous flow of your day
Pause in relationship conflicts for miracle insights of clarity
Pause with prayer and gratitude to invoke miracles

 

Pause when you are triggered to find your center and regain peace
Pause in the unknown and allow the miracle of the next step to emerge
Get ready to own your Divine birthright to experience miracles!
When: Wednesday, October 4th 7:00 – 8:00 EST
Cost: $22
Via: Zoom
* This call is recorded if you cannot attend live and you will receive the recording the following day
Register Now!