Date / Time
09/26/2023 - 10/24/2023 - 2:22 pm - 3:00 pm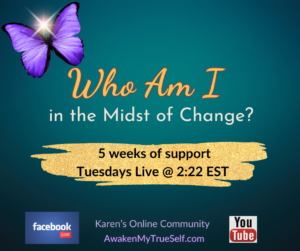 As I get ready for Year 2 of Awaken MY True Self Online Community…
It has been an amazing year after launching my online community and I have been blessed as I witness miracles and support a community of like-minded souls who are courageous and open, each having their own unique experience of living in alignment with their True Self and putting their dreams into motion.
To share what this community is all about and its pure intention, I created a FREE 5 week program to support those ready to return to themselves so they can heal and feel alive to live their true potential as their authentic, beautiful, passionate, and radiant self.
Join me live or for the replay on both Facebook and YouTube for this 5 week series…Who Am I in the midst of change?
Week One- Who am I in an empty nest? – Tuesday Sept 26
Week Two – Who am I in grief and loss? – Tuesday Oct 3rd
Week Three – Who am I as I age? – Tuesday Oct 10th
Week Four – Who am I in retirement? – Tuesday Oct 17th (4:44 EST)
Week Five – Who am I in divorce? – Tuesday Oct 24th
Date and Time: Live starting this Tuesday @ 2:22 EST.
**Would love to have you attend live but the recordings will be available on both my Facebook page and YouTube channel
PSS. Please feel free to share with others
To attend and view on Facebook CLICK HERE (if you are new "like" the page and turn on your notifications to be reminded)
To attend and view on YouTube CLICK HERE​