Date / Time
06/07/2021 - 06/08/2021 - 9:30 am - 6:00 pm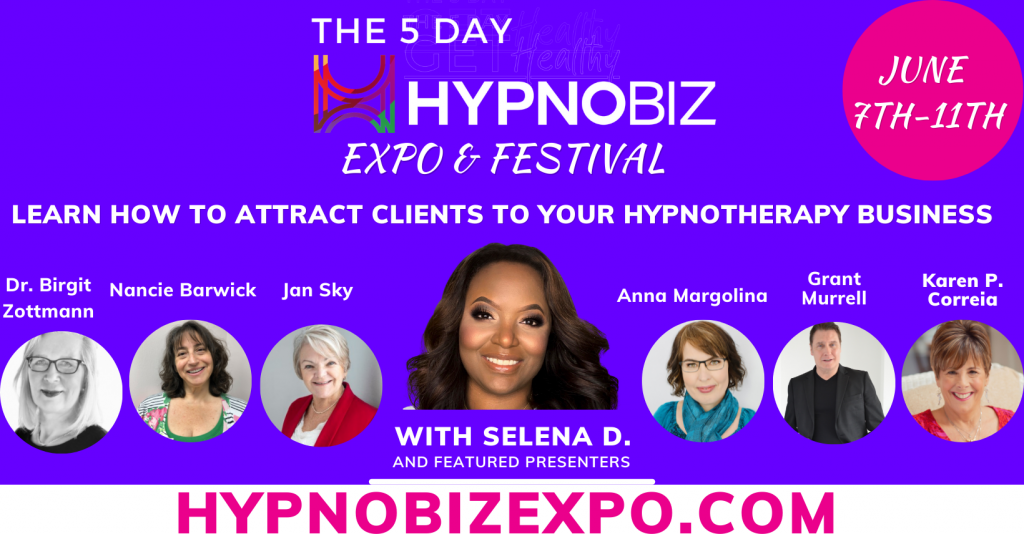 Are you ready to ATTRACT more clients and GROW your Hypnotherapy practice?
If you answered YES, you are officially invited to join us at The HypnoBiz Expo & Festival happening June 7th-11th starting at 9:30 AM EDT.
Many of the top Hypnotherapy experts on the planet are coming together in a powerful 5-day live online Expo & Festival.
I will be presenting on June 8th Your Soul Knows- Accessing the Wisdom of the Soul with Soul Entrainment™ at 2:00 EST.
The focus will be on YOU and how YOU can uplevel YOUR Hypnotherapy practice in 2021 and beyond!
HypnoBiz Expo & Festival Live Online
Monday JUNE 7th – Friday June 11th, 2021
USA (EDT) – 9:30am – 6:00pm
USA (PDT) – 6:30am – 3:00pm
UK – 2:30pm – 11:00pm
Melbourne – 11:30pm – 7:00am
To learn and register CLICK HERE