Date / Time
04/29/2021 - 7:00 pm - 8:30 pm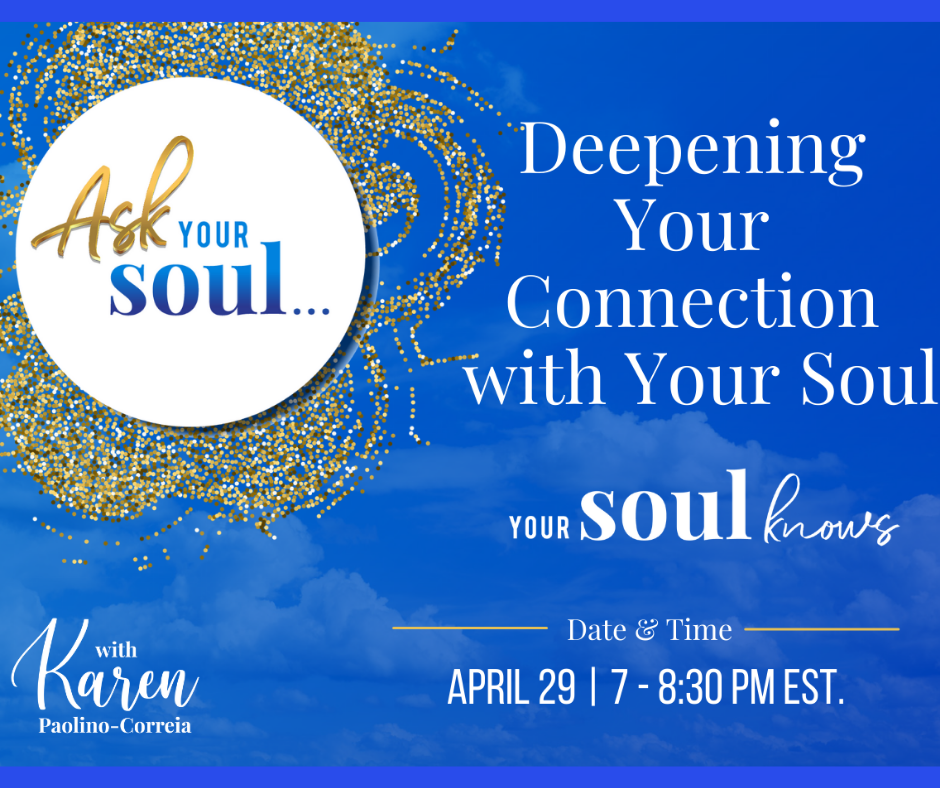 Its true… All you seek is found within
4/29 soul session- Deepening Your Connection with Your Soul
During this session our intention is to deepen your connection and communication with your soul. This video session is recorded if you cannot attend live. You will experience…
Healing and letting go at the Altar of your Soul
The importance of soul inquiry
Working with automatic writing and oracle cards to access wisdom and messages from your soul
 A guided Soul Entrainment journey to receive guidance, insight, healing and clarity to align you to your soul's highest potential
This journey, which you can choose to attend one at a time or dive in and commit to all 10 sessions which will support you in being in spiritual practice with your soul until mid August, is a commitment to join in oneness with your soul to release what blocks you or no longer serves you and to listen and expand in the consciousness and communication with its love and wisdom to guide you in every aspect of your life to live a soul driven life.
Here is our weekly intention as we meet every other week on Thursdays nights (all sessions are recorded if you cannot attend live)…
**If you would like to still sign up for all 10 sessions and receive 2 FREE, I can send you the recording of the first session which you can do on your own.
4/15 soul session 
Who Am I and Why Am I Here?
4/29 soul session 
Deepening Your Connection with Your Soul
5/13 soul session 
Receiving Messages from Your Soul
5/27 soul session
Living in the Flow and Magic of Your Soul
6/10 soul session
Gifts and Joy of Your Soul
6/24 soul session
What is My Purpose?
7/8 soul session
Aligning to Soul Relationships
7/22 soul session
Past Lives of Your Soul
8/5 soul session
What is my Next Step?
8/19 soul session
Awakening to Soul Destiny 
What to expect…
⭐ Receive your email before class sharing in the theme for the next two week journey with your soul with questions to reflect and contemplate 
⭐ Each session Karen will guide you a Soul Entrainment® Journey to join in oneness with your soul and receive healing, guidance and clarity about the theme 
⭐ Work with oracle cards to ask and receive guidance from your soul
⭐ Join in exercises and spiritual practice to deepen your connection and communication with your soul
Dates: Thursday nights join virtual from 7:00 – 8:30 EST 
               Starts April 15th and we meet every other week (schedule above)
Investment: $33 per class. Commit to all ten and get 2 Free…$264 (save $66)
Extra support at special pricing for those that attend this series: 
Soul Entrainment® Special – 3 sessions $100 OFF Reg $666 for this class $555
CLICK HERE to learn more about these sessions and read testimonials
Soul Portrait and Reading 20% OFF till April 30th. Regular price $225 Now $180
CLICK HERE to learn more about these sessions and read testimonials
Register Now!
Bookings are closed for this event.