Date / Time
05/13/2021 - 7:00 pm - 8:30 pm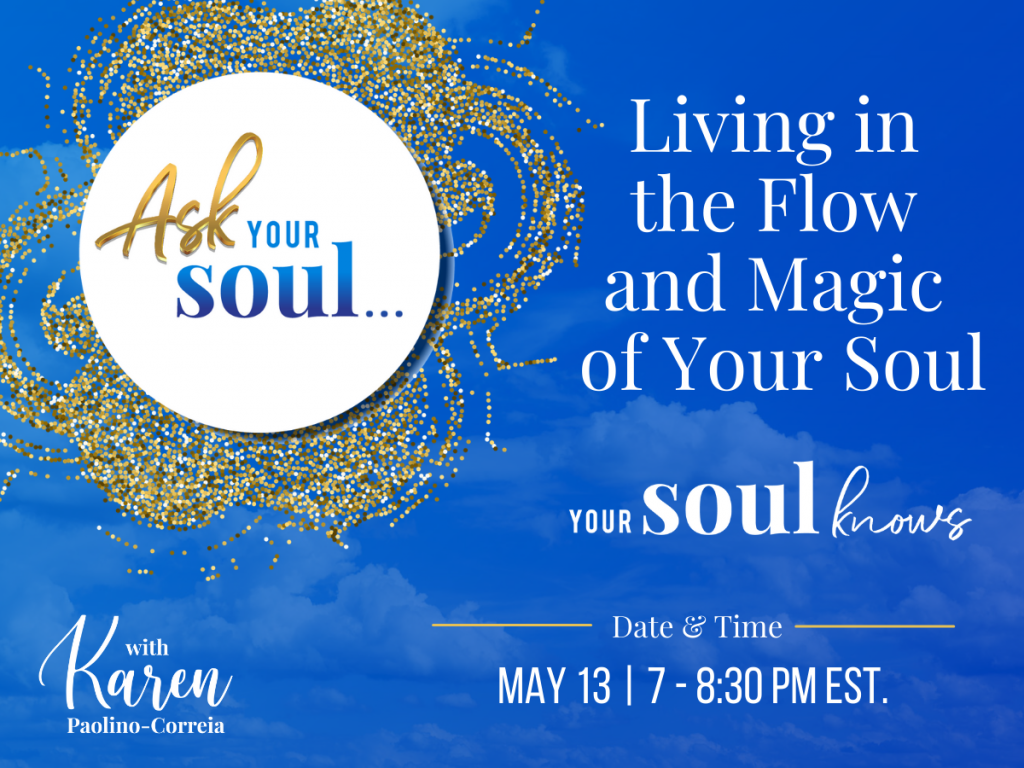 Its true… All you seek is found within
5/13 soul session-Living in the Flow and Magic of Your Soul
During this session our intention is to deepen your connection and communication with your soul. This video session is recorded if you cannot attend live. You will experience…
How to be in the flow of your souls grace and ease
How to recognize the magic all around you and invite more
 Working with and recognizing coincidences, synchronicities, and miracles
 A guided Soul Entrainment journey to receive guidance, insight, healing and clarity to align you to your soul's highest potential
This journey, will support you in being in spiritual practice with your soul until mid August, is a commitment to join in oneness with your soul to release what blocks you or no longer serves you and to listen and expand in the consciousness and communication with its love and wisdom to guide you in every aspect of your life to live a soul driven life.
Here is our upcoming weekly intention as we meet every other week on Thursdays nights (all sessions are recorded if you cannot attend live)…
5/13 soul session 
Receiving Messages from Your Soul
5/27 soul session
Living in the Flow and Magic of Your Soul
6/10 soul session
Gifts and Joy of Your Soul
6/24 soul session
What is My Purpose?
7/8 soul session
Aligning to Soul Relationships
7/22 soul session
Past Lives of Your Soul
8/5 soul session
What is my Next Step?
8/19 soul session
Awakening to Soul Destiny 
What to expect…
⭐ Each session Karen will guide you a Soul Entrainment® Journey to join in oneness with your soul and receive healing, guidance and clarity about the theme 
⭐ Join in exercises and spiritual practice to deepen your connection and communication with your soul
Time: Thursday nights join virtual from 7:00 – 8:30 EST 
Investment: $33 per class.
Soul Entrainment® Special – 3 sessions $100 OFF Reg $666 for this class $555
CLICK HERE to learn more about these sessions and read testimonials
Register Now!
Bookings are closed for this event.