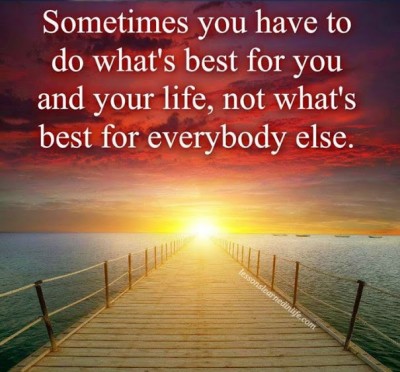 What will people think if I choose whats best for me?
As many of you know from my "Big News" announcement last month, I only have one more month left in my sacred space where Heaven on Earth has embodied its home for the past four years. During the last 7 months, the spa that is connected to the center, has been in the midst of growth and transition and it no longer provides a sacred, serene place for the work and integrity of what I have created for this "Center for the Soul". It's time for me to move on and as much as I resisted and struggled with the decision at first, I know deep within its right and its time to let go.
What comes with this decision is the re-emergence of one of my biggest fears and also one of my greatest opportunities to heal and grow on a soul level. Throughout my lifetime, I have struggled with the fear of upsetting and disappointing others and if I am honest, I catch myself making decisions to please others, make them happy and especially not to disappoint them. With this transition, I can choose to practice what I preach, to walk the journey of healing and embodying the truth, "The only person I can create happiness for is myself". Its time to let go and embrace how others will react when I choose a path that feels right for me. The truth is… their reaction may emerge from love or from fear and its not about me.
So now, I am challenged to walk my talk. Asking myself the question, "What do I really want? What do I really, really want?" Many of you have heard me ask this during your private sessions as well as group teachings. The answer can reveal itself as I choose to override these fearful thoughts that can haunt my mind….
What will people think if I choose whats right for me?
Will they be mad, disappointed, run away and distance themselves from me and the work I so love to share?
What will they do? Where will they go?
Then my soul steps in and shares with all of us…
Remember two months ago when you couldn't get the key in the door to open Heaven on Earth's door? What if your infinite loving support has given you a gift and what if this gift is being presented to all those that choose to receive it.
There is another door to be opened to your True Self , to experience heaven on earth and in order for you to open this new door, you need to close this one.
With this message we all have the opportunity to embrace change. To have the courage to close doors that no longer serve. To trust that new doors will present themselves and open. Welcoming and allowing infinite possibilities and the true potential of your soul to be revealed, especially when you surrender to your divine plan, asking for the highest path to be revealed.
So you can join me and ask yourself, "What do I really, really want?" But most importantly, its time to be courageous and let go of your fearful thoughts about what other people think and how they will respond if you follow your heart and do whats right for you and your divine plan.
So here's what I really want and know as of today, March 26th…
~ As I move through this transition and allow my next steps to be reveled, I am renting an office May 1st for the next six months to facilitate my private sessions; Angel Readings, Soul Entrainment, Soul Mediumship, Hypnosis and Life Coaching sessions, in Pembroke, one mile from where I am now, on route 53.
~ I am open to teaching my group workshops, retreats and certification programs in other centers both locally and traveling to other states and countries. I welcome any speaking engagements and teaching opportunities to share the work I love.
~ I am planning our first Heaven on Earth Productions event for this Fall where we will host the "Best of the Best" Speakers and Teachers and the Angel Fair. My joy and passion is to continue our connection and growth as a community and to be a resource founded in integrity and trust for all those who are ready to heal, grow and awaken to their Divine Self. I am open for suggestions to where we can host and accommodate this event on the south shore.
~ I will continue to grow my online private sessions, teleclasses, meditations and certification courses.
~ MOST IMPORTANTLY… I am staying open. I allow Spirit to guide me and show me my highest and best and the highest and best of all, better than I could ever imagine and to guide me to fulfill my mission and intention, "To joyfully make a positive and profound difference in the world".
The truth is, its time for me to choose myself. To focus on my joy, my passion of teaching, sharing, writing, traveling and inspiring others to awaken to their Divine Self. I also choose to be present and available to my family as I have grown to appreciate how important they are to me. I cherish this time with my aging parents while time is precious. I need to let go of managing the center on a day to day basis and allow room for my divine plan which is filled with joy, purpose, ease, love, abundance and balance to reveal itself. In order for this to unfold, I need to be open, available to listen, and have the energy and time to take inspired action to follow the lead of my heart and soul.
I know deep within, as I experience this transition and choose to heal and follow the wisdom and guidance of my divine self, I will teach and empower others to do the same. This is how I teach with love and integrity.
I leave you with feelings of gratitude for your support and may you be inspired to choose yourself and follow the lead of your heart and soul. Karen