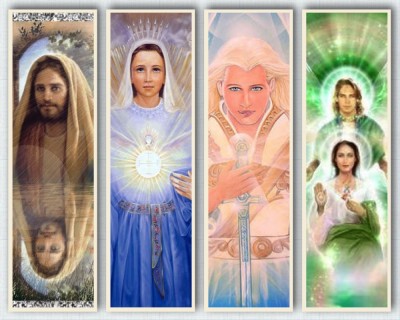 Today, I want to share with you an essential and life changing tool in my spiritual tool box. If you choose to practice and use this gift, my wish for you, is a deeper sense of peace and a knowing that you are never, ever, alone and there is always help around you.
I was never really interested in superheros when I was young, except when I had a crush on Robin, the Boy Wonder. My interest peaked again when my kids were young and I took them to the various blockbuster movies. Then, when I was diagnosed with thyroid cancer almost 20 years ago, the angels became my new superheros. I can honestly say with gratitude, that invoking the angels and asking for help (which was never easy for me) has changed my life.
Now, I want to share with you the power of my "Fabulous Four". This is my team of divine helpers whom I call forth when I'm feeling worried, helpless or I don't know what to do. It all started this Spring when I was having challenges with my teenage son. We have always been extremely close and after he entered his second year in college, I could feel him pulling away and making choices that caused me concern.
After feeling lost and not knowing what to do, I returned to my therapist and asked for advise. To support him and myself, I had to integrate unconditional love with tough love. It was a very difficult for me and I was spending way too much time worrying and imagining the "what if's".
A wise voice within, guiding me to focus on his light, his gentle spirit and visualize him illuminated in his soul's essence and to trust, that he is wise and rooted in a strong foundation of love. Then, I would surrender him to my trusted team of divine helpers, my "Fabulous Four"; Jesus stood to his right, Mother Mary to his left, Archangel Michael behind him (watching his back) and Archangel Raphael in front of him. I chose this team with intention knowing that they would help and support both of us. Just one note…the nice Jewish girl in me obviously did not pick this team because of religious beliefs. I choose them because I trusted their support from experience. Here is how they helped me and can help you if you choose…
Mother Mary– She understands a mother's love for her son and she will always guide and support children and their mothers. She surrounds everyone in unconditional love and I knew she would do the same for Justin which would dissolve any fear and worry that may be coming from me. She is the divine mother who helps with healing and miracles and I was asking for a miracle.
Jesus– I have grown to trust Jesus as a loving brother/friend.  I imagine Jesus as a pillar of strength and protection standing by his side to guide him. I asked him to intervene with healing and direction to a peaceful and loving resolution. I also knew that Jesus is the master of miracles and I was praying for this to unfold.
Archangel Michael– I have reached out to Michael since my children were very young. He is the protector, the one I call on and you can too, to keep my children safe and surrounded in love. He provided me with courage and direction as a mother and released me from my fears and unhealthy cords of attachment.
Archangel Raphael- The master healer. I asked for healing for my son, myself and all concerned. I invoked healing on all levels; physical, emotional, mental and spiritual. I asked Raphael to guide us both in making healthy and wise choices.
So what was the outcome? It took a good three or four months of intentional prayer, surrendering and letting go, and lots of human tears and then the miracle unfolded. Louie and I both agreed, we couldn't pinpoint how and why, but it happened. By the end of the summer, we were connected, he was grounded and we had some healing heart to heart discussions that lead us both to a place of understanding, growth and even laughter.
Through this experience of growth and healing, it later provided opportunities for me support others in similar situations. During an Angel Reading, divine guidance asked me to share the same spiritual practice I used with my son. They asked me to encourage my client to call on divine protection and to see their loved one surrounded in all directions and to focus on the love and light within them. Then their personal divine helpers stepped forward and they called themselves "The Fabulous Four".  I had to laugh out loud. Because of her humorous angels, I now had a powerful and playful name to call my team of superheros; Jesus, Mary, Michael and Raphael.
Everyone has their personal connection to the divine. You are welcome to call on the "Fabulous Four" or invoke those divine helpers that you trust and know. Consciously intend to catch yourself every time you are engaged in fear or worry and call upon your personal superheros for yourself or others. I encourage you to play your part and choose to see the light of truth and love in the person or situation involved.
I continue to use this as often as needed. In the recent snowstorms, I called on my "Fabulous Four" and I asked them to surround my home, our vehicles on the road, my business and my children with comfort and protection. Within seconds of asking, it transformed my thoughts and feelings of worry and fear into peace and love.
I invite you to experiment with this divine tool and see if you want to add your "Fabulous Four" to your spiritual toolbox. Invite your personal superheros into your life and may it bring you peace and comfort, knowing, that help is only a whisper away to "save the day".
Here is a prayer to call on your Fabulous Four support you…
Dearest Divine,
I know you love to help in profound ways and I am calling upon you now. I ask my divine team, my "Fabulous Four" (you can call upon your "divine superheros" by name or just trust that they have been assigned to you or those involved). I ask for your help (state their name, your name or the situation involved). Please surround this person or situation in all directions with protection, unconditional love and divine intervention. I surrender this to you now and I ask Archangel Michael to release me from any attachment of fear or worry. I release this to you, my Fabulous Four, with unwavering faith that divine order will unfold for the highest and greatest good of all. I choose to step back in love and see the divine illuminated within this person I love and the situation at hand. I welcome miracles to unfold and so it is.