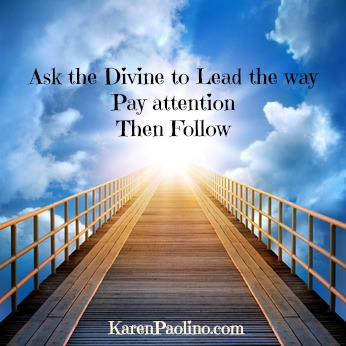 May 1st marked a new beginning. A transition into letting go of what I knew myself to be and the norm of a busy and never ending work schedule. I had released the responsibilities of running a full service spiritual center where I was responsible to many and began a journey of focusing on my work and being solely responsible for myself. Surprisingly, after feeling the grief and anger of letting go, I began to feel free, giddy and curious, wondering what may lie ahead.
At first, I wanted to grip tight to this wonderful feeling, afraid that it was temporary and in fear of what might replace it. But, every morning I continued to wake up with this same freeing feeling. Then I knew, the universe had been supporting me all along. Even though I didn't make the choice for change, the divine had my back. I started to see clearly. What had unfolded was in my highest and best and an answer to a long standing prayer.
Over the past year, I had been intently asking to surrender all that no longer served me and asking the divine to lead the way. I had grown through experience to believe and know that the divine always knows what's best for me. Now, it was time to journey deeper into divine surrender. I felt free but I had also entered into a void of the unknown.
Haunting thoughts and feelings from my ego were trying to figure it all out. Asking…Where do I go? What should I do?  My ego wanted to fill the void back up with everything I knew. My ego was fearful of falling into the abyss of the unknown and shouted out to me, "Are you crazy, trusting in the divine! You can't even see whomever you're asking to lead your life?"
In the midst of surrender I called out for help.
The universe started to deliver synchronistic gifts to guide me into the unknown. My first gift, Tosha Silver's first book, Outrageous Openness: Letting the Divine Lead the Way. At its heart, Outrageous Openness opens the door to a profound truth: By allowing the Divine to lead the way, we can finally put down the heavy load of hopes, fears, and opinions about how things should be. We learn how to be guided to take the right actions at the right time, and to enjoy the spectacular show that is our life.
I knew I was at a crossroad, both personally and professionally. I absorbed myself fully into its teachings, simply because it resonated as truth and it allowed me to practice surrendering to whole new level. I no longer was willing to work so hard, to force, or push, what I believed to be my plan. I had developed a deep level of trust in the divine over the past twenty years and I was ready to truly let go and invite the divine plan to be revealed. Simply put, I affirmed, "Thy will be done through me! And so it is!"
So you may wonder…How do you surrender?
I allowed myself to accept what was unfolding in my life.
I chose not to resist what was. My mind was free from the constant thoughts and responsibilities of the center, open to experience my day as it presented itself. So the challenge was to just wake up everyday and ask the divine to lead me. For example, this week, slower than usual, I had private sessions lightly scattered throughout the week. I taught a teleclass on Monday night and here is where the experience of the void comes in… I had nothing but open free time in between. In the past, I would have hustled and contemplated… "What should I do to keep busy?", "How can I make everything work?" Instead, I delved into prayer, asking and inviting the divine to lead my day.
What unfolded?… A client reaching out for support and I counseled. I spent time reading Tosha's second book, Change Me Prayers and I recording some of her prayers so I could listen to them in meditation, I recorded a new CD, "Meet Your Guardian Angel" and effortlessly designed the cover and now its ready to be released. I had lunch with my son and enjoyed every moment. I worked on my website and I didn't take a shower until 4:00 pm. I just allowed my day to be guided as it unfolded in its perfection.
I became a witness to my minds ranting thoughts and accusations and instead chose to surrender and ask for divine support.
My second gift of divine guidance , another book came my way, The Surrender Experiment: My Journey into Life's Perfection by Michael Singer. At its heart, Michael A. Singer, author of The Untethered Soul, tells the extraordinary story of what happened when, after a deep spiritual awakening, he decided to let go of his personal preferences and simply let life call the shots. In every circumstance, he allows what unfolds in his life to lead the way, releasing resistance, challenging his mind's ranting and raving thoughts and not allowing its fearful responses to interfere. What you discover through his life's experiment of surrender, is that surrendering doesn't mean you give up your dreams but instead you allow the unimaginable perfection of your life to unfold, which in his case, was better than he could have ever imagined .
Michael Singer's story challenged me to pay attention and become a witness to my fearful and concerning thoughts and not allow myself to engage and react but just witness. Also, to stay open to the possibilities that life presents you. Try not to resist what shows up but just follow life's lead.
I am learning and growing in this next phase of my personal and spiritual journey and I like whats unfolding. I am curious and excited as the divine plan keeps revealing itself. I could have never imagined a month ago that I would be doing an event with John Holland and Maureen Hancock in September and that another one of my dreams would come true. The opportunity to teach at Kripalu in January both our retreat weekend and my Soul Entrainment® Training. The best part, it came easily and effortlessly in a miraculous way.
What I am most grateful for, is this amazing feeling of freedom. I can just be me and allow the divine to lead the way. I feel giddy as I experience more effortless joy, fun and fulfillment into my life. This is why I am writing this. Its there for you, for me and for all. Its a choice. It's a journey called surrender and trust as you ask the divine to lead your life.
May this prayer support you as it has supported me. Feel this prayer as you say it and pay attention to what you know deep within your heart and soul.
"Birthday" by Tosha Silver from her book, Change Me Prayers
Divine Beloved, change me into One who joyously embraces Your Plan for me. Every day let me be born anew. Fill me with Your courage and enthusiasm.
Free me from all fears and resistances, wishing only to serve You in every way. Grant me patience and faith as I take the steps you show.
Release me from old doubts, fears and confusion,
knowing every step will be revealed at the right time.
May I trust all doors will fling open in Divine time.
Use me according to Your will.
With gratitude, Karen