Discover Your Soul's Plan and Purpose ~Mapping Your Miraculous Life
Friday, May 5th thru Sunday, May 7th, 2017
Let Go… Get Unstuck… Receive Clarity… Experience Miracles…
Discover your purpose, live your divine plan, and expand into your unlimited potential. This powerful weekend journey leads you to release what no longer serves you and access the divine wisdom of your soul. Using the modalities of Soul Entrainment® and Quantum Breathwork, you will learn to:
• Heal and release blocks, resistance, and unconscious fears
• Align with your soul's plan
• Clarify your soul purpose and know your divine worth
• Receive guidance, clarity, and action steps to live your true, authentic self
• Manifest miracles as you ask the Divine to lead the way
• Experience more joy, peace, fulfillment, and love in all aspects of your life
Through various powerful practices such as Soul Journeys, breathwork, journaling, sharing, discussion and meditation you will begin to reconnect with your soul to awaken and align to your life's plan and purpose.
Return home inspired to take your next steps toward a soul-driven life.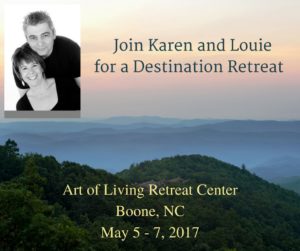 Location: The Art of Living Retreat Center, Boone, NC
Date:Friday, May 5th thru Sunday, May 7th, 2017
Cost: $498 (Includes Room, Meals & Tuition)
Registration: Click here to register online
The Art of Living Retreat Center
Start the day with a fresh vegetarian breakfast with a view overlooking the ebb and flow of the Blue Ridge Mountains, and spend the rest of the morning enjoying some of our daily activities, like yoga, meditation, or a class at our clay studio.Following a vegetarian lunch, explore the grounds at the Labyrinth or on some of our hiking trails, or experience some treatments at our authentic Ayurvedic Spa. Following dinner each evening we have group meditation and meditative chant.
All of the following sessions are included in the tuition:
Saturday:
Letting Go and Releasing to Gain Clarity from your Soul
facilitated by Karen Paolino Correia
Walking the Sacred Path of the Labyrinth
facilitated by Karen Paolino Correia
Journey into the Breath
facilitated by Louie Correia and Karen Paolino Correia
Sunday morning:
Journeying with the Soul and Awakening Clarity to Your Divine Purpose
facilitated by Karen Paolino
Closing Walking the Sacred Path of the Labyrinth
facilitated by Karen Paolino Correia
TO REGISTER for the retreat and learn more about the center: CLICK HERE