Witness and experience miracles through the power of gratitude…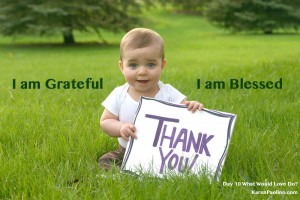 As you enter the holiday season with the celebration of Thanksgiving this week, you may have mixed emotions. Maybe you are…
~Excited or even uneasy about being with family members
~Missing your loved ones who will not be around or grieving those who have passed to spirit
~Dealing with worry or stress about money issues, shopping or getting everything done
~Delighted to celebrate special holiday traditions and looking forward to getting together with friends
Today, I welcome you to join me in setting intention for how you choose to experience this holiday season.
Let me share a message from the soul to empower you to remember that you have an opportunity to create your reality…
Your Soul wants you to Remember…
You are powerful, more powerful than you could imagine at this moment. Your power of free will is one of the gifts given to you by the Creator. In every moment you make choices. In every moment your choices create your reality. What if you exercise your power to choose gratitude, peace and love this holiday season.
Begin by becoming a witness to your thoughts and see if they are fueled with fear (what you don't want to experience) or love (what you do want to feel and experience). When you are focused on what you don't want, put the brakes on your thoughts that are heading in a direction to take on form and choose something, anything, to be grateful for. Gratitude is a powerful expression of love and it carries a very high vibration that will shift your consciousness and create miracles in your life experiences.
As you move through this holiday season, notice the simple things in your life you are grateful for. Be grateful for the bed you wake up in, be grateful for the morning hugs and kisses, be grateful for the food you so enjoy, be grateful for gas in your car, be grateful that you have kids who drive you crazy at times, be grateful for your body as you move from place to place, be grateful for the smile of the stranger in the store and the list goes on.
You have a choice this holiday season. To be here now, in the present and to be grateful for all the blessings in your life. See the blessed in every life experience. This may be a challenge when life is not going your way and you feel all is not right in your world. Yet this is the time to go deeper into your practice of gratitude.
I leave you with two powerful suggestions to support you in manifesting a peaceful, loving, holiday season.
Sharing Gratitude at Your Thanksgiving Celebration
We started this in our family about 10 years ago. We were never the kind of family that recited the prayer of grace before dinner yet I always felt comfort when attending meals with families who practiced this ritual. So I created a new tradition one Thanksgiving when our whole extended family gathered at my sisters house in St. Louis. I asked everyone if we could start our dinner with going around the table and sharing 3 expressions of gratitde. We did this in rounds so each person would share one expression at a time until we went around the table three times. It was amazing to share in this experience with the old and the young. We laughed and cried as everyone shared from their heart and love expanded and filled the room. This continues to be our Thanksgiving ritual and I only wish we would remember and intend it every day (as I am writing this I hear, why not?). May this create unity and love at your gathering this year and may you witness miracles as share in gratitude.
Prayer of Gratitude
"Dearest angels, this holiday season help me to remember everything I have to be grateful for. Please heal and clear my thoughts of lack, worry and fear. Remind me to focus on the blessings in my life; my good health, my loving relationships, the money I do have and most importantly help me to share my words of gratitude and love with family, friends, co-workers and even strangers who are kind to me. Thank you too angels for your unconditional love and support, always."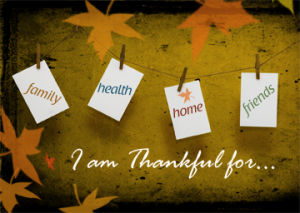 I am grateful for each and everyone of you and the opportunity to share in love and enlightenment (see the words "lighten me" contained in enlightenment? How cool is that!)
With gratitude and blessings, Karen