Date / Time
06/01/2020 - 07/05/2020 - All Day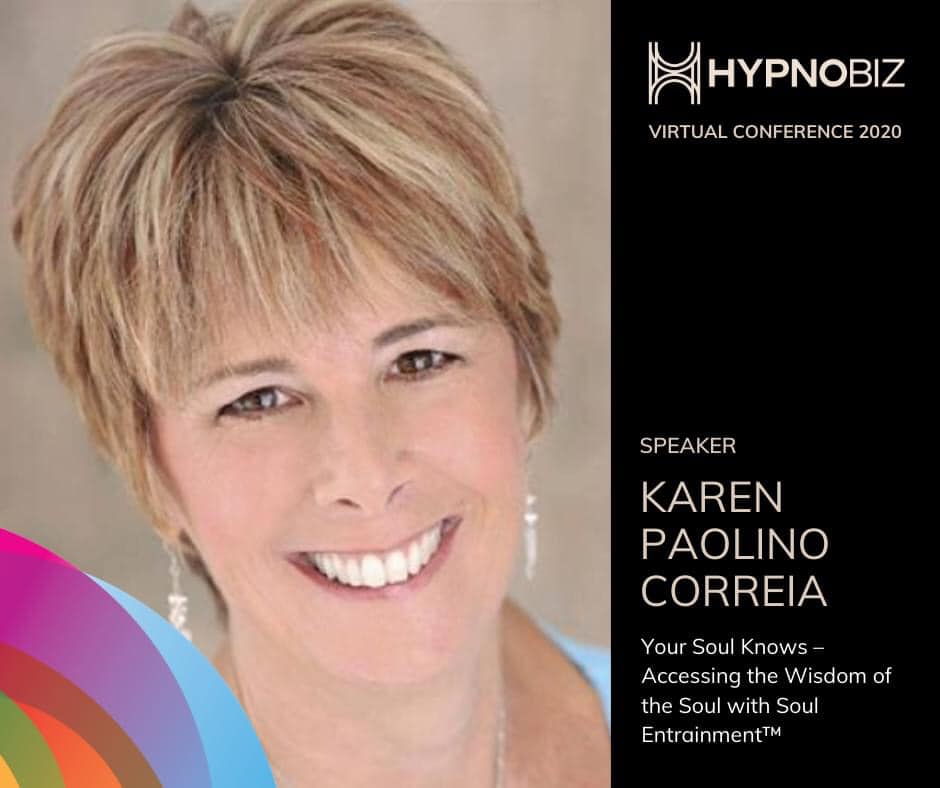 Accessing the Wisdom of the Soul with Soul Entrainment™
The Soul knows everything about you past, present, and future, and is can guide you to your highest and best. Learn a powerful technique to access the super consciousness of the Soul. Help your clients receive the answers they are seeking for healing, growth, and change. Come and experience a demonstration of Soul Entrainment™ and receive insight into the future. Discover this transformational process and realize how it can take your hypnotism practice to the next level.
Join me as I present this on Day 5 at this amazing virtual conference….
What's next for hypnotherapists on the other side of lockdown? What changes must we be
making personally and professionally to set ourselves up for growth in the new economy?
These are questions we set out to answer in this year's HypnoBiz Global Virtual Summit.
(Just on that, make sure you use my VIP coupon – it's only valid for another 7 days).
$50 off all HypnoBiz Global Virtual Summit tickets (use code HypnobizVIP2020 at checkout >>
Hear from over 60 hypnosis experts from around the world
I'll be sharing the virtual stage with Dr. Steve G Jones, Bob Burns, Robert G. Smith, Bob Doyle and many others from business, health and clinical hypnosis fields. There's a bunch more speakers listed below.
On demand access to presentations
If you're unsure about doing 5 full days in front of the computer – don't be! You can access all
presentations for 12 months afterwards – plenty of time to absorb everything at your leisure.
Complimentary HypnoBiz Associate Membership
Also get complimentary access to the industry's newest professional membership – designed for the new generation of hypnosis professionals.
● Hypnobiz Digital Magazine, produced twice a year
● Monthly webinars on business growth topics
● HypnoBiz Member badge for your website
Just some of the presentations…
Below are just some of the topics you'll be able to absorb live at the HypnoBiz Global Virtual
Summit and on demand for 12 months afterwards.
Virtual keynotes from some of the biggest names in the industry
Dr. Steve G. Jones – millionaire Clinical Hypnotherapist
Robert G. Smith – Creator of eutaptics® and FasterEFT Training
Bob Burns – Hypnotherapist, magician, mentalist and creator of the Swan Protocol
Bob Doyle – Law of Attraction teacher and star of the movie, The Secret
Business track presentations
What Separates the Great from the Mediocre
Pivot Your Hypnotherapy Business
Take Your Practice Online
Sports Hypnosis: Hypnotic Team Talks
How to Hypnotize Yourself to be the Success you want Presentation
How to Speak from Stage, Online and Offline
Mastering the Business of Hypnosis
How to Thrive and Not Just Survive in the 21st Century
7 Proven Marketing Strategies
Using Show Business to Increase Your Hypnosis Business
Multiple Income Streams
Hypnosis, Social Media & Marketing
Health presentations
Inspiring Hope for Humanity
Take the Suffering Out of Pain
4 Sessions to Help your Clients Quit Smoking
Innate Well Being
Quantum Healing
Hypnosis as a Mind/Body/Spirit Approach to Thriving After Cancer
HAPPY LOVE – The 6 Secrets of Happy Couples and How to Become One
Releasing Anger Without Killing Anyone
Mind Over Menopause
A Womb With A View
Unwind the Mind HypnoYogaTherapies®
Energy Hygiene For Hypnotists
How To Serve the World's Largest Pandemic and How to Pivot and Reposition in These Times
Clinical presentations
Rewire Your Mind For Success
Hypnotic Goal Setting
Performing Hypnosis – Don't be a chicken!
Going Deeper and Beyond
Symbology Technique
Family Freedom Protocol
The Power of Suggestion
The Body Language Code
HELIX – The DNA of Hypnosis
The Power of Self-Concept
Write Your Story With Hypnosis
Hypno-soma
Introduction to Law of Attraction
The Chakra Recharge System
Check out the Virtual Summit webpage for all presentations + ticket options >>
Make sure you use the code HypnobizVIP2020 to get $50 off any ticket.
Hope to see you there!
Blessings, Karen