Date / Time
09/23/2021 - 6:00 pm - 9:00 pm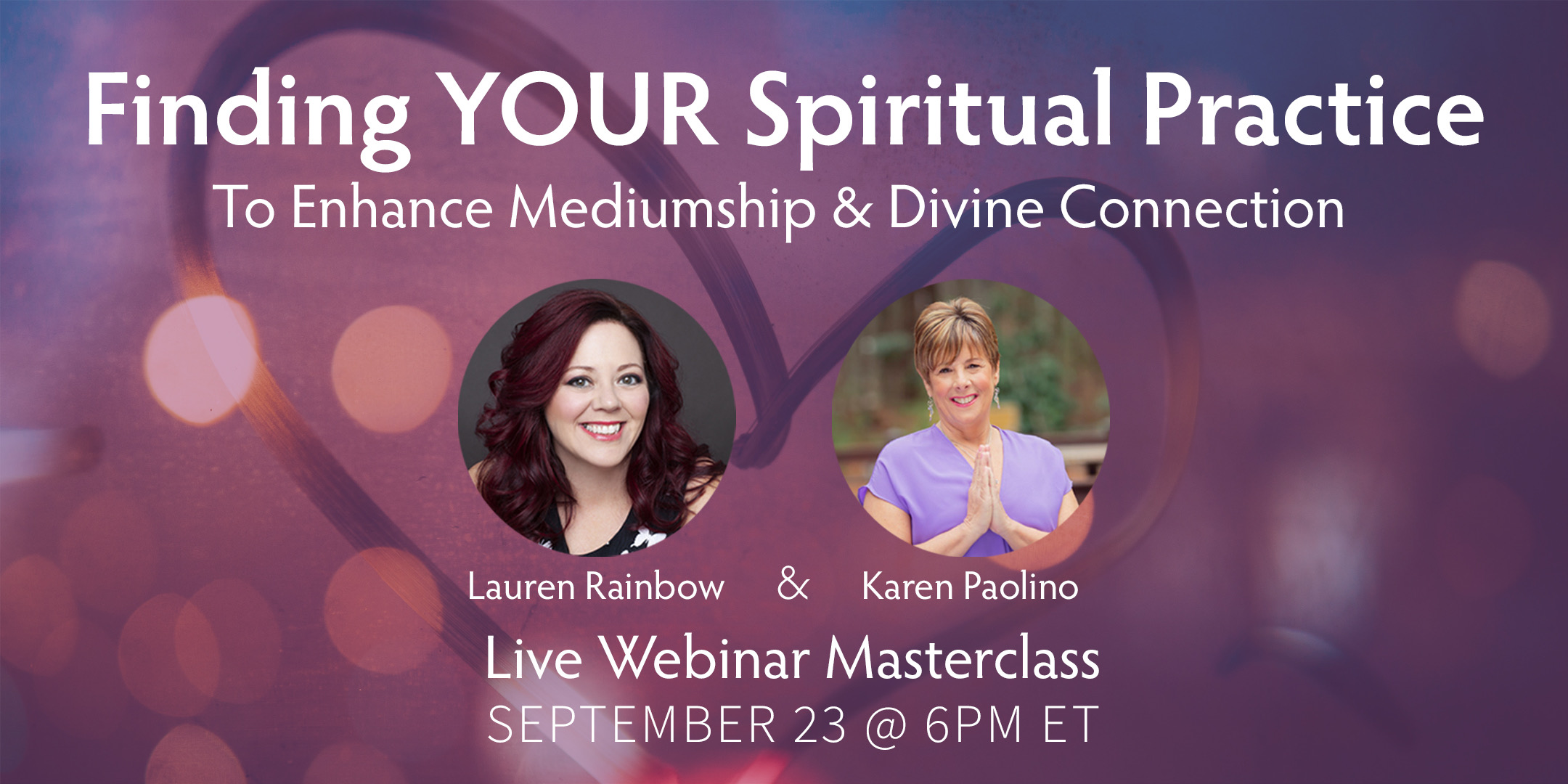 Join me with the amazing Lauren Rainbow for a special webinar on September 23rd where we will share some tips, teaching and exercises on how to trust your connection with the divine and help you design your unique spiritual practice.
Finding your spiritual practice to enhance mediumship and divine connection is a special webinar we created to help you…
💗 Own your self-worth to talk time for you
💗 Surrender into love as you design your Spiritual Practice
💗 Trust connecting with Spirit and the Divine is your divine birthright.
💗 Discover what it means to be in the flow of grace
There are so many fun things one can do to create a meaningful spiritual practice. This is a journey meant to be filled with play and joy, but can be a dedicated practice to honoring and loving your place in this world.
There is no cookie-cutter way to live the spiritual journey. Your practice, your journey is unique to you! Surrender into loving yourself and allowing your individual spiritual expression shine!
You will also enjoy fun exercises to connect and receive joy and ease on your spiritual journey.
Fully align to one love. Commit to yourself, Spirit and the Divine!
You are WORTH it.
💗 PS. Karen and Lauren will share messages from Angels and Spirit to some audience members! 💗
About Karen
Renowned Angel Intuitive, Soul Medium and International Speaker, Author & Trainer Karen has been dubbed "the real deal". For over two decades, Karen has helped thousands of people around the world heal, connect and rediscover theirdivine essence through her books, workshops, certification programs, and private sessions. Entertaining, deeply compassionate and a highly gifted intuitive, Karen offers her audience and her clients the opportunity for experiential play, deep healing and radical awakenings.
Karen Paolino is the author of several books including 101 Ways to Meet Your Angels and Everything Guide to Angels which was featured as Books to Read by Newsweek. 
Learn more about Karen and her work at https://createheaven.com
Connect with Karen on Facebook https://www.facebook.com/karen.paolinocorreia
Connect with Karen on Instagram https://www.instagram.com/karenpaolino/
About Lauren Lauren is a happy medium, Hay House author, spiritual teacher, and sacred journeyer dedicated to Spirit, Healing, and Love. Her work with Spirit has brought her worldwide acclaim. Lauren is an evidential medium with the unique ability to deliver heart-centered messages from Spirit. 
She is passionate about supporting your intuitive development and loves to bring people to sacred sites like Egypt, Mexico, Peru, and India for life-changing empowerment journeys!
Facebook: https://www.facebook.com/LaurenRainbowMedium
Instagram: https://www.instagram.com/laurenrainbowmedium/
Register Now!