Date / Time
07/22/2021 - 7:00 pm - 8:30 pm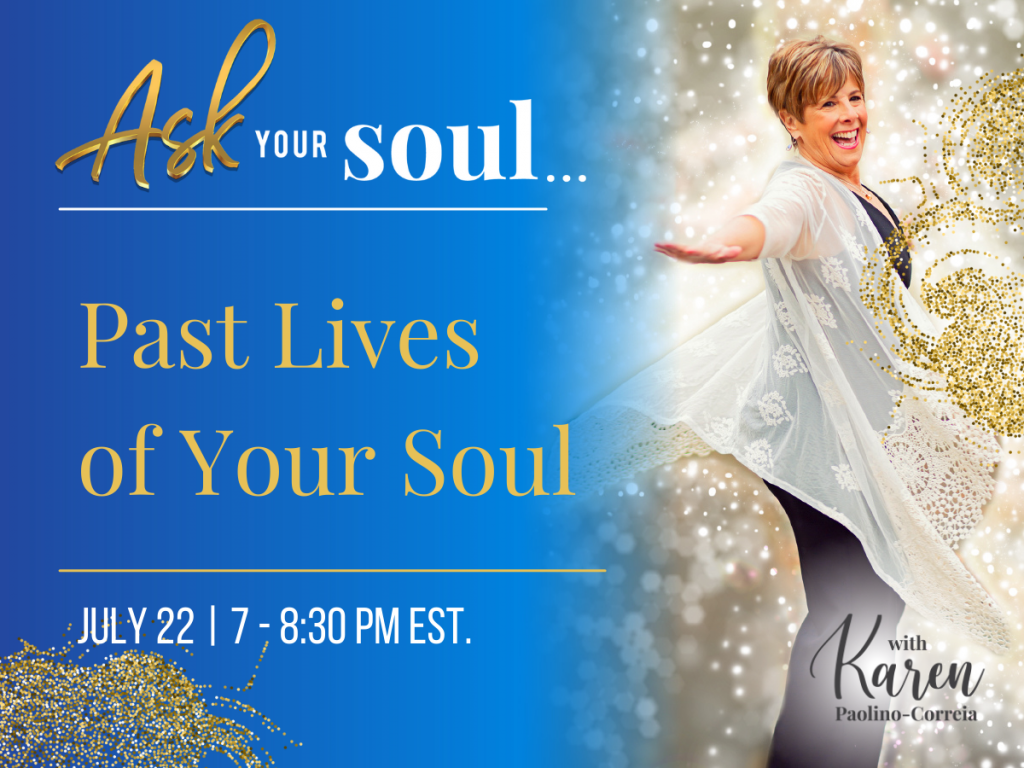 Its true… All you seek is found within
722 soul session- Past Lives of Your Soul
During this session our intention is to deepen your connection and communication with your soul and the soul of your loved ones in spirit. This video session is recorded if you cannot attend live. You will experience…
 Share in reflection and the benefits of asking your soul about the lives you once lived!
 Discover how your soul knows everything about you including experiences of other lifetimes
⭐ Karen will guide you in a past life regression in oneness with your soul where your soul will help you explore a lifetime to bring healing, clarity and insight to your present life
This journey is a continuing series through August and  will support you in being in spiritual practice with your soul. Here is our upcoming weekly intention as we meet every other week on Thursdays nights (all sessions are recorded if you cannot attend live)…
7/22 soul session
Past Lives of Your Soul
8/5 soul session
What is my Next Step?
8/19 soul session
Awakening to Soul Destiny 
What to expect…
⭐ Each session Karen will guide you a Soul Entrainment® Journey to join in oneness with your soul and receive healing, guidance and clarity about the theme 
⭐ Join in exercises and spiritual practice to deepen your connection and communication with your soul
Time: Thursday nights join virtual from 7:00 – 8:30 EST 
Investment: $33 per class.
Soul Entrainment® Special – 3 sessions $111 OFF Reg $666 for this class $555
CLICK HERE to learn more about these sessions and read testimonials
Register Now!
Bookings are closed for this event.