Date / Time
03/03/2020 - 03/25/2020 - All Day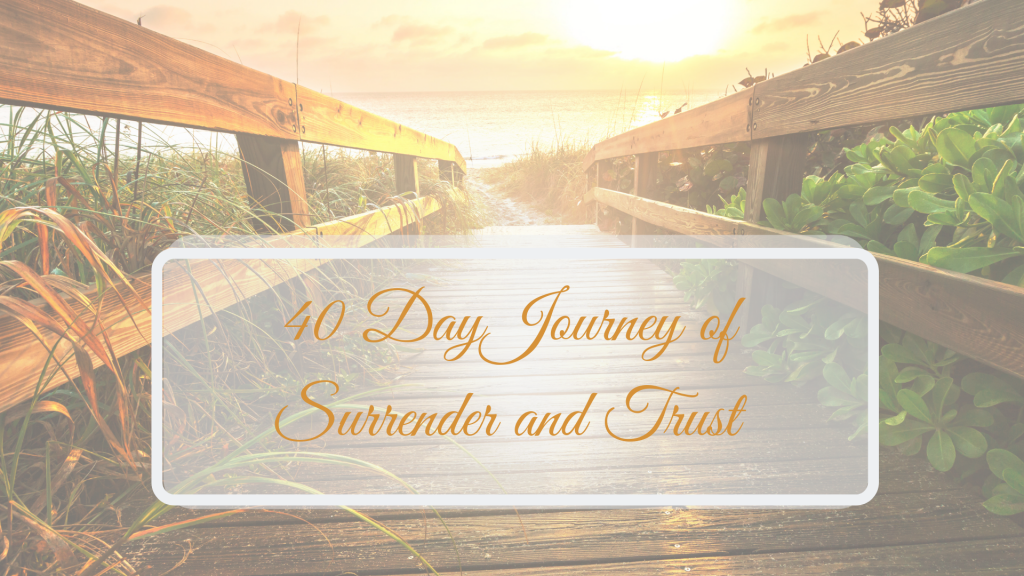 Are you tired of making life happen? Are you ready to end the struggle and invite support, healing and miracles into your life?
I invite you to start your 40 Day Journey of Surrender and Trust with me on March 3rd
If you are ready to release through surrender, which is not about giving up but opening up to divine grace so you can receive support and allow infinite opportunities to enter your life, this 40-Day Online Journey hosted by me provides the inspiration, support and guidance you need including 6 Tele-classes to support you with insight, sharing, and meditation.
This journey was created so you can discover and experience your own healing, freedom and transformation in just 40 days!
When you say YES! to this journey…
You will receive all you need to free yourself through surrender and trust, open up to the Divine and invite healing, guidance, and miracles in to your daily life. This online course includes:
Daily message from me via email to guide and support you
Inspirational, real and raw prompts to invoke reflection and to encourage you to trust yourself and trust in the power of surrender
An pathway to peace and freedom so you can experience more joy, more peace and more serenity than you ever imagined possible
Inspirational and divinely guided tools (including a variety of videos, prayers, affirmations, and meditations) to empower you and to invoke divine support and miracles
Self-reflection questions that spark discoveries and insights into your soul
Direct support from me through weekly Tele-classes and a Private Facebook GroupYour Investment for this soulful journey is only $99 and you don't even have to leave the comfort of your home! Join me on this journey and experience the joy, peace and serenity that come from surrender and trust.
Where: From the comfort of your home
Tele-class Dates- Tuesday nights 7:00 EST March 10, 17, 24, 31, April 7, 14
*This is easily accessed by phone or internet and all calls are recorded and can be listened to after the call.
TESTIMONIALS
This journey of surrender and trust has taught me how to live in the now, the present, and to enjoy life. The endless worry about what could be, is gone. Surrendering and trusting in spirit, God and the angels, has taught me what peace feels like and it is amazing. Thank you for this journey and I look forward to the next. ~Angela
I was guided to take your 40 day class not knowing that I was about to go through a very rough time in my life. This class helped me through so much emotional turmoil and guided me to stay present, breathe and lean into my divine family. I learned so many new ways to connect with the divine and was able to be guided to see things threw a different lens. I would highly highly recommend taking this class. ~Carolyn Eley
This journey spoke directly to my soul. I feel so free to just be. The Divine directed this journey through you to gift to all of us. It is beyond measure. Every morning was like Christmas morning…feeling anticipation and excitement to see where you were taking us! I am definitely joining you again! ~Pat
Karen, I just want to thank you for the incredible 40 Day Journey. I've been on many other similar "Quests" for many years now but the combination of your writing, your prayers, the powerful meditations and the support of our weekly teleconferences made a tremendous difference. I will recommend this Journey of Surrender and Trust to all that are ready to usher in a new awareness and way of living life in this present moment. ~Sharon Keeney, Forsyth, MO
I committed to taking time for myself every day for this journey and honestly, it really was a few minutes. The ripple effect of those few minutes created an amazing day. I'm a go, go, go person and I found on this 40 day journey I had to slow down and stay more present and because of this I felt an overall calm take over. I found towards the end I was getting anxious that it would be ending soon and I would miss my daily email. I can't wait for the next journey to begin! I highly recommend this course! ~Monique
I've truly entered this deep place of surrender that was even surprising to me. I wasn't expecting to experience this so deeply. In this state of surrender I am experiencing such a deep sense of peace, connection and a feeling of being centered and grounded. ~Carolyn
Karen what a beautiful, powerful, and loving experience this 40 day journey has been for me. I've had a huge vibrational shift. Thank you! Thank you! ~Lori
Register Now!
Bookings are closed for this event.