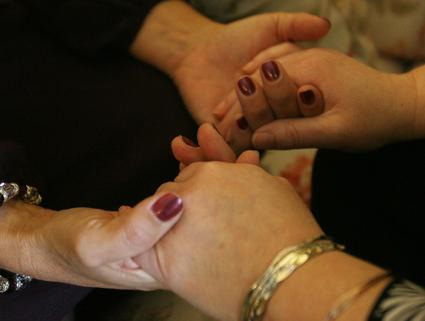 Karen experienced a spiritual awakening in 1995 during her journey with cancer. During meditation, an angel appeared and comforted her and communicated with her during the experience. This connection became stronger as she continued to open to the Angelic realm and work with her angels through all her life experiences and in her healing work with clients. When she lost her sister suddenly in 1999, Karen had another spiritual transformation and discovered she could easily communicate with her sister in the Spirit world. These life challenges gifted her with her mission and life's purpose.
In 2002, Karen went to California and studied with Doreen Virtue PHD, to become an Angel Therapy Practitioner. This training brought all "the pieces of the puzzle" together for her. She is now blessed and honored to be working with the Angels and loved ones in the Spirit world to bring comfort, healing and guidance to all those that choose to be open to this ever present love and inspiration. Karen's intention in doing this work is to help others remember they are never, ever alone and to be a messenger for the angelic realm delivering the angels healing messages which guide and support all those open to receive.
What can you expect during an Angelic Mediumship Reading?
Be introduced to your guardian angels, spiritual guides and teachers
Reconnect with loved ones in the Spirit world
Learn how the Angels can help you fulfill your purpose
Receive divine guidance concerning relationships, career, finances, emotional issues and other life challenges
What takes place in a reading?
When you receive an angel reading set your intention to be open to your highest and best better than you can ever imagine. Karen will begin the reading by channeling messages of divine guidance from your angels, guides and any loved ones in the spirit world. After she completes the messages she uses beautiful and inspirational angel cards to do a past, present and future reading and to answer any further unanswered questions. Remember the greatest gift given to you by God is the gift of free will and free choice and this reading will be a reflection of where you are at this time and the possibilities that are open to you. The angels will deliver the gifts of inspiration and hope that empower you to make choices; it's your job to take action and co-create with the angels so you can create the life you truly desire. The best approach is to have no expectations other than a prayer for your highest and best better than you could ever imagine. The possibilities are endless.
Contact Karen to schedule a private Angelic Mediumship reading
Karen's client base is worldwide. Angel readings are available in person, (Karen is located in Pembroke, Ma) by Skype or over the phone.
Karen offers 30 minute, 45 minute and 1-hour readings. Readings are recorded digitally and sent using a secure email server within five business days.
Karen also offers, "Express Guidance" sessions. If you have urgent questions concerning relationship, finances, career, business, health, etc ? I offer fifteen minute "Express Guidance" sessions. These sessions can usually be scheduled within the month, based on availability of these specially reserved schedule times. These scheduled times are for focusing on a particular area of your life, in which I will assist you by addressing your prepared questions. Please note that "Express Guidance" sessions do not include connections with loved ones passed.
Angel Reading Sessions (Choose One):