I really enjoy doing these Angel Readings for you periodically, knowing from past feedback, that they really hit home and support you with love and guidance. I am so grateful to serve in this way and for the comments you continue to share. It supports me in trusting that the divine knows exactly how to get through to you, if I only listen.
So with loving support from the divine, may you receive your highest and best, better than you could ever imagine.
After a long meditation, I set my intention. I asked the divine to guide me through the cards to share a past, present and future spread for all those that read this. May you be open to receive…
***Please note that the cards I used for the past, present and future reading are John Holland's, The Psychic Tarot Oracle Deck and Toni Carmine Salerno's Angels, God and Godesses Oracle Cards.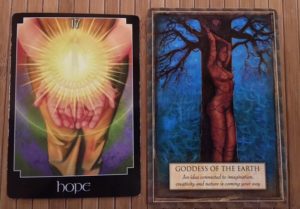 Your Past…
The first message of guidance I heard when I looked at the "Hope" card was, This is the time not to lose hope but instead to have faith in the dreams, prayers and desires you have put into the hands of the divine. The book that comes with the deck adds this message, "When this card appears, know that a special wish you've made may be fulfilled in time. The impossible can indeed become possible."
If you can, look closely at the "Hope" card. There is an image of a person in the center of the light. You are a spiritual being having a human experience. Your soul came here and chose your physical body and your experiences to create, shine and awaken to your infinite potential as a divine being. Your soul is waking up to the Truth of who you are and your unlimited potential to create the impossible into the possible. You wouldn't be reading this if it wasn't so. Stay connected and listen to the voice of your soul for it will always guide you and lead you to your highest and best, better than you could ever imagine.
The "Goddess of the Earth" card is present with the "Hope" card because your soul has been planting ideas and inspirations into your thoughts to encourage you to express your gifts, talents and divine uniqueness. Pause for a moment and reflect…"What have you been inspired to do, share, or act upon?
Do you hold yourself back because you can't imagine how it can manifest? Does your ego keep stepping in and putting up walls with the followings thoughts?…You can't do that! You don't have enough time or money. You aren't smart enough, good enough or what will people think? Blah, blah, blah. Your soul is calling out from deep within you…BELIEVE! Pay attention and listen to the seeds of thoughts and inspirations that come with a feeling of aliveness, joy, playfulness and service. This is divine inspiration and its coming from your soul.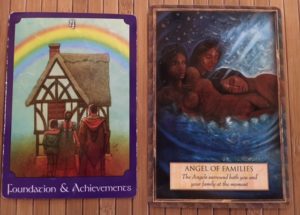 Your Present…
I found it very interesting when I turned over these cards. Let me start with the "Foundation and Achievements" card and please remember that the "past" cards above and their messages, are flowing into the messages of these cards in the "present". I am quoting from the book that comes with this card from John Holland's, The Psychic Tarot Oracle Deck because it is very relevant to the message…
"This card confirms that what you've been building is now firmly established with a strong and solid foundation. You deserve this, and its time for you to harvest the rewards for your efforts. what you sowed, you now can reap. Be open to receive, as you've worked hard and have given so much. Allow the Universe to give a little back to you, for there has to be an even exchange of giving and receiving in order to prime the pump of gratitude and reinforce the law of attraction."
I truly felt emotional as I read this and knew it to be true. You, yes you, reading this, have worked on yourself, your beliefs, your emotions, your thoughts, and your past. You have worked on letting go of what no longer serves you and you have been awakening to your truth, your potential, and infinite possibilities. You have read books, taken classes, said affirmations, prayed and lit candles of intention.
We say to you, all is heard, all is known and your efforts and determination manifest healing and miracles. Please have hope and faith in this and know that you are never alone in your efforts. You are constantly and consistently surrounded in infinite love and support. Believe in your desires, inspirations and dreams. This is the time, more than ever before, to take inspired action and ask for everything you need to bring your dream to fruition. If and when, its in your highest and best, it will flow with ease and grace. Nothing can stop it, nothing is impossible because it is seeded from the divine.  All will fall into place but remember you need to play your part. Believe and act upon the calling of your soul.

The "Angel of Families" card is here to say…You have a divine, spiritual family that is always, in all ways, supporting you. Ask for ALL that you need. Ask for confirmation, support, guidance and resources. Ask and you shall receive.
Also remember, that the angels will watch over and work with your immediate family for any and all concerns you may have in relationship to them, as you follow the voice of your soul. Trust that your soul and the divine would never lead you in a direction that wasn't for the highest and greatest good of all concerned. As I always teach in workshops and lectures, you can add to your prayers and intentions …May this or better unfold for the highest and greatest good of all concerned.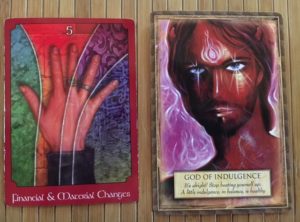 Your Future
Its always interesting and fascinating for me to be a channel for these readings because they unfold as I pray, listen and write. When I came to the future cards, I heard…Stay open! 
Change is one of humanity's greatest fears and it stops many from moving forward in following their inspirations and ideas. The ego wants to control, know the outcome, and stay stagnant. The ego is E-edging, G-God, O-out. These cards share guidance in moving forward as you question any financial concerns.
The "God of Indulgence" card, shares.."Its alright! Stop beating yourself up; A little indulgence, in balance, is healthy. The other card is, "Financial and Material Changes." The message with these future cards is to ask the divine to lead you with financial clarity as you follow your ideas, inspirations and dreams. Some times you will need to indulge and spend to fuel and support your dreams and other times you will need to save and be patient. So remember as you move forward, ask for clarity, confirmation and divine resolutions to be revealed. The divine is infinite in its possibilities to support you. If you believe and focus on lack you will experience lack. If you believe and have faith in an abundant universe and infinite resources, then you will experience miracles. Where do you want to focus your thoughts upon?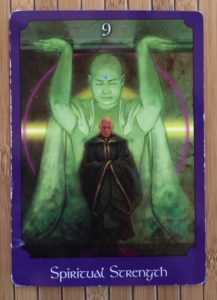 Outcome

When I turned over the card to share the outcome of this reading and the potential that awaits you, I smiled with joy. Focus on the image, it says it all. You are so much more than you know yourself to be. You are one with the creator. You are, That Which Creates Life Unto Itself.  You were created in the image and likeness of God. There is nothing, no thing, you cannot create. Look around you…be a witness to the creations of the creator. Where did it all come from? Infinite possibilities are abundant and their creation starts with a thought, an idea. The seeds have been planted within your soul. You already are what you seek. Believe and ask to re-member who you really are and all that you were created to be.
A last personal thought to support you in this reading. For me, I practice surrender. When I don't know "how" my desires or inspirations can be made manifest, I let go and let the divine lead the way. How do I do this? I ask, I go within, I listen, I pay attention to the signs and I play my part with unwavering faith to take inspired action even when I am scared and I have no idea where its going to lead me. This is how miraculous manifestation has happened in my life and I could never have imagined or planned what my soul had planned for me. My ego had a plan to keep me small, unworthy and insecure but once I reconnected with my soul and awakened to its unconditional love, I trusted that my soul would show me the way if I only asked.
To support you with tools to move you forward, I would like to recommend my Spark the Light Guided meditations to help you connect to the wisdom of your soul and to manifest your dreams and desires. You can download it or order is as a CD. Also, here is a link to another blog I wrote that I feel will inspire you, Seeking A Miraculous Life? Then Let the Divine Lead Your Life.
I leave you with blessings and its been an honor. I invite you to share your comments below and I would love you to do so, Karen
To receive more information about a personal Angelic Mediumship Reading CLICK HERE
Don't miss out on upcoming special events, workshops and privates sessions that can support you in your awakening and spiritual growth visit Karen's website CreateHeaven.com