I really enjoy doing these Angel Readings for you periodically, knowing from past feedback, that they really hit home and support you with love and guidance. So with loving support from the divine, may you again receive your highest and best, better than you could ever imagine.
After a long meditation, I set my intention. I asked the divine to guide me through the cards to share a past, present and future spread for all those that read this.  I asked Spirit to work through me. To choose the cards and then share the messages of divine guidance for the highest and greatest good of all. May you be open to receive…
***Please note that the cards I used for the past, present and future reading are John Holland's, The Psychic Tarot Oracle Deck and Toni Carmine Salerno's Angels, God and Godesses Oracle Cards.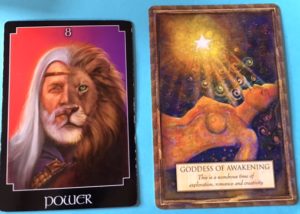 Your Past…
You have been "waking up" to who you really are and you are more open and willing to see the Truth of who you are, both the shadow, hidden, aspects of yourself and the light and expanded essence of your soul. This journey into your self is necessary and essential to live the life you came here to experience and to awaken to your soul's true potential.
Notice the image on the "Goddess of Awakening" card, the star's light illuminating as she is in a place of surrender open to receive. You have been opening up and asking to receive divine support and guidance as you journey deeper into the exploration of yourself and your life. This is igniting your power, your passion and it is rippling into your life.
As you observe the image on the "Power" card, remember you are so much more than you know yourself to be. Your power is divine and you have the strength to do anything and move through any changes that you both fear and desire.
Both yourself and those you relate to, have played in the "dance" of power (see the two faces on the "Power" card). When the ego takes over, power is played out in a fearful way through lies, manipulation, control and intimidation. When your soul takes the lead, power is ignited with confidence, knowing, passion and purpose. I would add an "em" to power because when your soul is your guide you feel empowered. Are you open and willing to become one with the empowerment of your soul and let go of the control of the ego?
Remember as you read on, the past cards are always connected to the present and the future.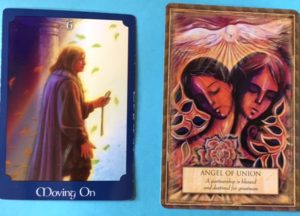 Your Present…
Its time to "move on" from the past and what no longer serves you. Interesting for me to witness that the last group reading I did had a similar theme about "moving on" from relationship issues or relationships that are not in alignment with the Truth and integrity of who you have become. When you grow spiritually and let go of the old patterns and beliefs of the ego self and you reawaken the essence and the Truth of your soul, your energy, the vibration of who you are, changes. For example, if you used to create and attract drama and power struggles into your life, now, you no longer desire to engage. You desire more peace and authentic relationships and the drama does not feel comfortable anymore.
So remember the past cards above… if there are still people in your life who misuse their power to control or intimidate you (which comes from their own fear) or if you are still holding onto a situation from your past that is causing you pain, its time to let go and move on from the old to invite the new.
The "Angel of Union" card shares your desire for soul centered relationships with others (see the dove or holy spirit above the two people), partnerships where you feel cooperation, co-creation, authenticity, honesty, joy, love and peace. These relationships or partnerships feel supportive, real and reflect effective and open communication. If you feel you would like divine support to experience more soul centered relationships then ask your soul to guide you to your "tribe". Ask and hold the desire for this and you will be shown.
The "Angel of Union" card can also bring a message that it is time to deepen your union and onenes with your soul and the divine, knowing that this relationship is blessed and destined for great success.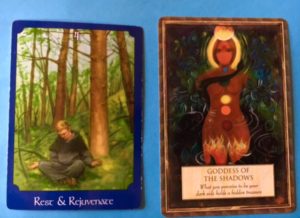 Your Future
I was not surprised when I saw the "rest and rejuvenate" card since we are in mercury retrograde until May 22nd and for the first time in ten years there is five planets in retrograde. So what does this mean? During this month, take time to step back, reflect, and go within and remember being in nature is a place where you can experience the presence of oneness and listen to the guidance of the divine.
The "Goddess of the Shadows" card reflects a divine transformation that will take place during this month. If you can zoom in to see the image on this card, it shares great insight. The snake reflects, "shedding old skin". The flames are burning away and the chakras are lit up and the divine light above her head and behind her, symbolizes divine connection and oneness.
You are being presented with the opportunity to release and let go of what no longer aligns with the Truth of who you are. The illusions of the ego are weakening and a new level of soul consciousness is waiting to be revealed to you. As the card says…
Over the coming months, you will find yourself questioning many of your long-held beliefs and you will realize that many of them are simply illusions that only serve to keep you feeling small, inadequate or restricted. This card heralds the start of a wondrous and empowering period of your life which brings to the surface many beautiful experiences and opportunities which, in the past, that your never thought possible.
I have to share one more thing. This morning, I received an email from my friend, astrologer, Regina Hamilton and I was captured by this one paragraph she wrote and I absolutely feel a connection to what has been shared above with this information…
There's another rare celestial event happening on May 9th. For seven and a half hours, starting at 11:16am, Mercury will be a dot moving across the Sun. This event occurs 14 times in a century, and it represents a cosmic consciousness reboot. There's a revitalizing force infusing our thought processes with new perspectives and energizing our creative urges. The result of this revivification is a new way of thinking of yourself…a new attitude and vision of who you are is brought into your consciousness…and your experience. You are new in your world!
What a gift when I turned over the "Universe" card as I asked the divine, "What will be the potential outcome of the guidance shared?" Allow me to share the meaning of the card from the book enclosed with the deck because it says it all…
You've come far on your journey, and its time to be rewarded for your efforts. This card symbolizes completion, triumph, peace, liberation, and fulfillment. Everything you've strived for is with your reach — meet it halfway and grab it! The Universe is the last of the Major Arcana Cards and reflects the work that you've accomplished on your travels. — but more importantly, it represents the wisdom that you've gained along the way.
You should now honor and acknowledge the truly wonderful soul that you are, and accept the vital part that you play in the big scheme of life.
The world is yours to command, and you're free to travel in whatever direction your heart desires. You're connected to everything in the cosmos. The Universe Card is a reminder that the same energy making us the stars in the sky, the same energy that's coursing through the Universe, is in each and every individual. In ancient times, many believed that each star was the soul of one person (I want to pause here and remind you of the "Goddess of Awakening" card in the past and the image of the star illuminating). They also believed those "souls" shined so brightly to guide others through the darkness and so too can your wise soul.
Blessings everyone and if you choose to share your comments below I would love you to do so, Karen
To receive more information about a personal Angelic Mediumship Reading CLICK HERE
Don't miss out on upcoming special events, workshops and privates sessions that can support you in your awakening and spiritual growth visit Karen's website CreateHeaven.com