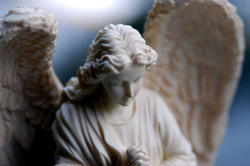 In 2004 Karen was nudged and inspired by her clients and students to facilitate a training course that would give them the tools and the spiritual guidance that would empower them to be Angel Messengers like herself.
In 2002, Karen made a huge commitment that involved time away from her family and financially stretching herself after a divorce to travel to California for training with the "Master of the Angels", Doreen Virtue PHD. It was a life-changing experience and she knew there were many on the east coast that could benefit from this type of training program. However, many students repeatedly expressed it was too big a commitment both financially and time wise to travel to California.
So with the guidance of her angels and the inspiration of Doreen Virtue's books and angel cards, she created an 8-week journey to empower others to accept their role as Angel Messengers and to deepen their connection with the Divine. This training program is designed with intention. The essence and the core of this class is the spiritual journey shared with like-minded people for 8 weeks. During the first weeks you release your blocks and fears that keep you from receiving clear divine guidance and in the following weeks you open up and enhance your natural intuitive abilities. Each week you pick a different divinity to work with from Doreen Virtue's book Archangels and Ascended Masters. The intention in doing this is to expand your knowledge and experience of the different divinities and to build your spiritual family so you can work with them in all aspects of your life. Karen's intention with the help of the angels is to educate and share with others the healing gifts of the angels so they can manifest miracles in their lives and "pay it forward" inspiring others to connect and ask their angels for guidance and support.
Who is this class for?
If you are interested in expanding your awareness and Divine guidance with your Angels, Guides and loved ones in the Spirit World.
If you are interested in becoming Certified as an Angel Messenger to do readings, workshops or parties
If you wish to incorporate Angel therapy into your healing practice.
What will you experience during this 8-week journey?
Enhance and further develop your intuition
Deepen your spiritual practice and experience spiritual growth
Expand and deepen your connection with your "spiritual family"
Remove the blocks to receive clear divine guidance
Learn the difference between your imagination and trusting divine guidance
Learn how to do an angel reading for both yourself and others
Discover how the angels can help you in all aspects of your life
Expand your healing practice and create the prosperity of being an Angel Messenger
What to expect:*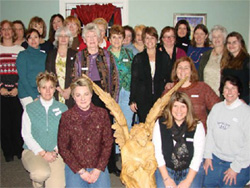 Week 1: Angel Attunement. Setting intention. Releasing blocks
Week 2: Who's who in the angelic realm. Creating and working with your "spiritual family." Connecting with your guardian angels. Automatic writing.
Week 3: Different ways to connect and understanding and tuning into your strongest "clairs". Discerning Divine guidance vs. your imagination. One card angel reading.
Week 4: Protection, shielding, and cutting etheric cords. Third eye opening. Conducting an Angel Reading for yourself and others
Week 5: Continue w/ Angel readings and receiving Divine guidance about relationships, prosperity, life lessons and life purpose.
Week 6: Enhancing Clairaudience. Discussion on mediumship.
Week 7: Past life regression. Defining your purpose as an Angel Messenger.
Week 8: Marketing your business. Questions and Answers. Closing ceremony.
Weekly assignments will be given: reading, meditation and a weekly practice working with a different Archangel or Ascended master.
*Schedule is subject to change based on the group energy and divine guidance. Weekly assignments will be given.
Please note: If you would like to receive a certificate of certification at the completion of this course and be certified as an Angel Messenger then you will need to attend (at the time of the call) at least 6 out of the 8 classes. There will also be a requirement to complete 10 angel readings by the end of the course. If these requirements are met you will receive a certificate of certification.
Facilitated by: Karen Paolino is a Certified Angel Therapy Practitioner. She has integrated her training in mediumship and hypnotherapy with her gifts as a clairvoyant spiritual counselor and teacher. She is also the author of three books used in the certification course, What Would Love Do? A 40-Day Journey to Transform your Fears into Miracles of Love and The Everything Guide to Angels and her latest book 101 Ways to Meet Your Angels.
Supplies needed:
Angel, Gods, Goddess Oracle Deck by Toni Carmine Salerno
Psychic Tarot Deck by John Holland
Everything Guide to Angels by Karen Paolino
Archangels and Ascended Masters by Doreen Virtue
Next Class Schedule
Location:Via internet and/or phone
Date: Tuesday nights June 23, 30, July 7, 14, 21, 28, August 4, 11
***All classes are recorded. You must attend 6 of the 8 classes to receive certification
Time: 7:00 – 9:00 pm
Cost: $444.00 (Payment plan is available upon request. Email Karen at Karen@Createheaven.com )
*Register ASAP this class continuously sells out!
To find out more and to register, please contact Karen at karen@createheaven.com or call her at 781- 857-1444
---