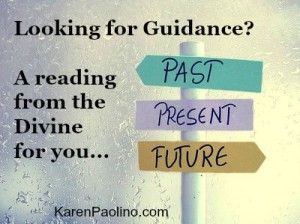 I really enjoyed doing this a month ago and because of your positive and loving  feedback, I decided to share another group angel reading to support you.
After a long meditation, I set my intention. I asked the divine to guide me through the cards to share a past, present and future spread for all those that read this email.  I asked Spirit to work through me. To choose the cards and then share the messages of divine guidance for the highest and greatest good of all, better than you could ever imagine. May you be open to receive…
***Please note that the cards I used for the past, present and future reading are Doreen Virtue's, Magical Mermaid and Dolphin Oracle Cards and her Healing with the Angels Oracle Cards.
Your Past…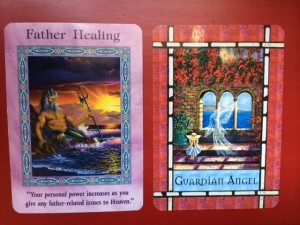 Take a moment and look at the images from the cards above and then scroll down and look at the two cards drawn for "the present". There is water images in all four cards which symbolizes your emotions. You're old stuff and painful and uncomfortable emotions have been surfacing. These emotions have emerged from the subconscious for healing and integration. This healing is around male, authority figures, shared by the "Father Healing" card. Stop and reflect for a moment. What male relationships or authority figures in your life have been pushing your buttons, stirring the pot, or intimidating you? Also, some of you and not all of you, will be reminded of similar issues that took place with your father.
This is all happening for a reason and clearly you are not alone noted by the "Guardian Angel" card. It is time to resolve and heal these patterns and triggers so you can BE your authentic self and exercise your divine courage and personal power to manifest your desires and experience the peace you deserve.
Remember the messenger or situation challenging you is a blessing in disguise to help you heal what no longer serves you and holds you back.
Pray to your guardian angels for healing and to clear the confusion. Place this situation in the hands of the divine and ask for the highest outcome to be revealed. The emotions that have been surfacing and stuck within you for some time; anger, sadness, confusion and hurt, are surfacing to be felt, healed and integrated so you can move forward and your prayers can be answered.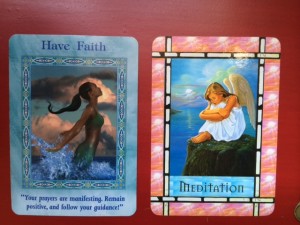 The message I am about to share with you is a repetitive message throughout this year and again the angels repeat its importance in this reading and what's going on in your present life experiences…
The answers you are seeking, are found within, not outside of you.
Hence, the "Meditation Card". The time you gift yourself to; spend in nature, meditate, pray and connect with your true authentic self and the help of the divine, will ripple into all aspects of your life.
The angels want you to know…Your feelings are real and many times raw. It is important to honor how you do feel when you are triggered. To suppress your emotions prevents healing. To acknowledge the uncomfortable feelings and be with them as they arise, supports healing and ultimately frees you.
How can you be with your feelings so you can let go, heal and have peace and clarity? When you are triggered, try to remember, its not about the other person or situation. Its a reflection of what's going on inside of you and its being activated by the event so you can heal and gain peace. To gain clarity, remove yourself from the situation (hopefully before you react in distress). Breathe and focus within to understand what you are really feeling. Stay with your breath and breathe again and again until you've calmed down. Another outlet to healing is to write about your feelings and express it on paper. After, call upon your angels and ask for continued healing, support and guidance.
You are not alone in your current circumstances. The other card says, Have Faith. Your prayers are manifesting. Remain positive and follow your guidance. When you ask for help, the angels respond in unconditional love. Your participation is to take time out and go within. Pray and then trust the answers will be revealed.
Your Future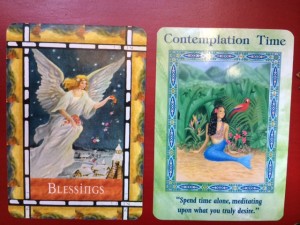 Why I passionately continue to teach people how to connect and communicate with divine guidance through my Angel Messenger Certification Course and facilitate Angel Readings, is because I know that divine guidance comes from the highest vibration of love and that the wisdom and support of the divine will always guide you to your highest and best outcome.
So when I see the future possibilities of this reading and the "Blessings" card, I know the divine will bless you with the highest outcome. Why is this so? Because you are loved unconditionally and when you ask… the divine answers.
I encourage you to pray and surrender your fears and wishes to the angels. Ask for the highest and best outcome to be revealed in divine order, for you and all concerned. Then let go and let God show you.
Your job is to TRUST when you do surrender to divine intervention. Go within, as the "Contemplation Time" card shares. Focus on what you truly desire to feel as the blessings of the divine are bestowed upon you. Try not to limit yourself by imagining details or trying to figure it all out. Just focus on the desired feeling and believe.
Outcome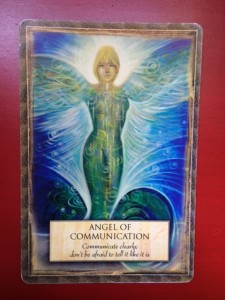 As you reflect on your past and you listen to the messages of the present and possibilities for the future, one of your major life lessons is being revealed…
To communicate what you want clearly.
You assume that those around you know what you want and how you feel. Yet the truth is that they do not. Because of your failure to communicate honestly and clearly, those around you often end up confused or, at best, having to guess what it is you want, feel or expect. Do not be afraid to say it like it is. You cannot lose anything by simply stating your truth. You do not need to blame or accuse others in order to speak your truth, just state your case clearly.
Underlying this whole issue is a fear of not being accepted or gaining the approval of others and therefore you are afraid to speak up. Know that this is an act of love onto yourself and others to communicate clearly, lovingly and honestly. The Angel of Communication is here to help you work through this issue. Through this process you will honor and empower yourself and gain much respect and love from others.

Take a breath and ask yourself, does truth resonate within me as I read these messages? Recognize the golden thread weaving from the past. Did you feel acceptance and approval from the "father figures" in your life?  The adult you may say yes but then ask your inner child.  Could the current circumstances be a blessing in disguise leading you to release the fears and hurt from your past, so you can love and accept yourself in the present, without seeking approval from others?
If this speaks to you, ask for the courage to be honest with yourself and to communicate clearly with others. Its time and the infinite blessings of your True Self await you. Remember as said above…It is an act of love unto yourself and others to communicate clearly, lovingly and honestly. The Angel of Communication is here to help you work through this issue. Through this process you will honor and empower yourself and gain much respect and love from others.  
With gratitude and blessings, Karen