I really enjoy doing these Angel Readings for you periodically, knowing from past feedback, that they really hit home and support you with love and guidance. So with loving support from the divine, may you again receive your highest and best, better than you could ever imagine.
After a long meditation, I set my intention. I asked the divine to guide me through the cards to share a past, present and future spread for all those that read this.  I asked Spirit to work through me. To choose the cards and then share the messages of divine guidance for the highest and greatest good of all. May you be open to receive…
***Please note that the cards I used for the past, present and future reading are John Holland's, The Psychic Tarot Oracle Deck and Toni Carmine Salerno's Angels, God and Godesses Oracle Cards.
Your Past…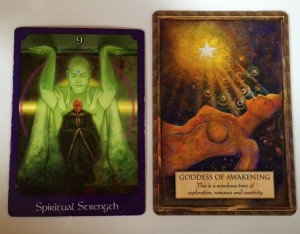 When I saw these two cards in the past position, I felt very excited for all those that would read this. I also had a visual of your spiritual family surrounding you and applauding for you. You have come so far and all your inner work and spiritual studies have paid off. Pause and congratulate yourself for consciously choosing the path of awakening. As I share in my workshops and teachings, it requires work and courage to feel and heal your unresolved emotions of the past. The realize the "blame game" no longer works and you have to take responsibility for how you choose to experience and create your life.
You have awakened to an inner spiritual strength that is rooted in the Truth of who you are. See the glowing image on the card to the left. The Enlightened You, has evolved from all your past experiences. It holds your strength, courage and wisdom. You are so much more than you could imagine yourself to be and you have gained wisdom and strength from your past, that is important for your future. The number nine on the card shares that a deep rooted issue that played out repeatedly in your past, has recently come to completion, healing and enlightenment. Congratulations!!!
Take a deep breath and feel the image on the card to your right. Notice her peacefulness and openness to receive, as if she has truly surrendered. You have and will continue to awaken to the light of your soul (symbolized by the star). Your soul is also represented as the illuminated larger Self on the card to the left and it is larger than life and more present than ever before. You have called your soul to awaken, so allow it to lead your life into a wondrous journey of creation, love, passion and new beginnings.
Remember as you read on, the past cards are always connected to the present and the future.
Your Present…
There is so much to view and see in the image of the "Goddess of Sacred Power" card on the left. The veil is removed from her vision, her ability to see is enhanced. There is a situation or relationship in your current life, where its time to look at it with eyes wide open and to realize its time to take control and to lead with strength. You don't have to do it alone. You can always ask for divine support, yet, its also important to take action, listen to your inner knowing and follow your intuition. As the card says, What is important right now is someone takes control (which that someone is you or surrender to the divine). It is better to steer a ship somewhere, rather than have it drift aimlessly wherever the wind may blow.
The other card, "Conflict and Defeat", brings clarity to the situation. This experience has caused you both mental anguish and emotional defeat. Sometimes it feels like you are taking two steps forward and one step back. Exhausting. I personally don't feel like life should be so hard and when it is, we are not in alignment with our soul or our divine path. If this situation involves another person, especially someone close to you, staying in conflict and not making a decision, could be preventing or enabling them from moving forward as well.
So breathe and remember what your past cards revealed. Your spiritual strength and wisdom are within you and have enlightened you in the past. Choose to trust it and allow it to guide you as you take a leading role in this situation. Your soul wants you to continue your awakening and to experience more flow, passion, peace and love.
Your Future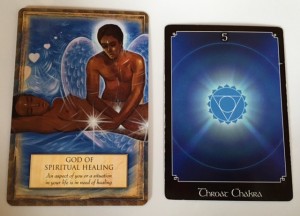 In the near future, you have an opportunity to initiate a profound "Spiritual Healing" for yourself and the situation reflected upon during this reading. Again, I remind you, you do not have to do it alone but you do need to play your part. There is spiritual support always there for you to call upon; angels, guides, archangels and ascended masters. It is reflected on the image of the card to the left. She is allowing herself to receive the healing that is there for her and healing is graciously shared with unconditional love.
Sometimes we need to get to the point in a situation where we say, "I am done. I don't want to do this anymore!" This feeling confirms your inner knowing.. its time to move on, take my  power back and realize this is no longer serving me or those involved. This is the turning point, its not about giving up. You finally let go of the struggle and the suffering and you initiate and move forward into change and transformation. Divine intervention and resolution is allowed through the power of surrender (especially when we consciously ask). This opens the doors for healing, a miracle or an unexpected answer or opportunity to reveal itself. The resolution may be an outcome which you could have never imagined yourself. You may awaken to an inner knowing and the undeniable courage to walk away, only to discover a newfound sense of power and freedom.
The "Throat Chakra" card shares the message that your part is to speak your truth and share how you feel and what you need. Remember to choose to do this when the situation is neutral and not heated. Pray beforehand and ask the divine to provide you with the courage to speak with clarity, truth and love. It really does work. When I am unsure about what to say, in any given situation, I ask the divine to speak through me and it always results in the highest outcome and I am often surprised what words are spoken.
Outcome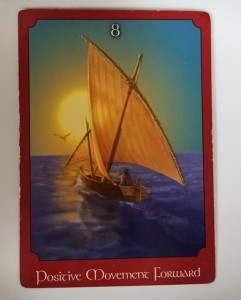 This card shares with you the outcome of the guidance shared in this reading…"Positive Movement Forward" and the number 8 which symbolizes abundance. Connect with the feeling of this card. I hear… Smooth sailing ahead…calm waters and you will are moving into the light. 
You create that movement forward. You steer the ship and align with the divine and to experience calm waters, smooth sailing and the light illuminating the way.
So join me in this prayer to invoke your highest potential…
I ask my Divine support, God and All That Is…
Please support me, guide me and help me to continue to awaken my divine power and potential and to experience divine enlightenment in all aspects of my life. Help me to re-member I have the wisdom and strength within me to create a life filled with peace, love, passion and purpose. I am open and willing to surrender and let go of all that no longer serves me. I ask in return that divine healing take place for all involved and a divine resolution, miracle, or opportunity present itself, so I can be reassured as I move forward. Help me to speak my truth with clarity and love and to allow the divine to speak through me as needed. Show me the way every step forward. I welcome and invite my life to flow effortlessly and with ease into calm peaceful waters. And so it is.
Blessings everyone and if you choose to share your comments below I would love you to do so, Karen
To receive more information about a personal Angelic Mediumship Reading CLICK HERE
Don't miss out on upcoming special events, workshops and privates sessions that can support you in your awakening and spiritual growth visit Karen's website CreateHeaven.com