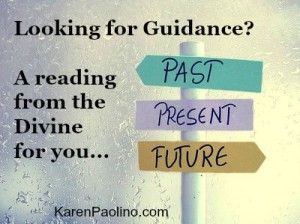 I just returned from vacation and I needed a nudge to get back into the energy of inspiration and connecting for others. Asking the divine to lead, I was guided to share this reading with you so you may be supported at this time.
After a long meditation, I set my intention. I asked the divine to guide me through the cards to share a past, present and future spread for all those that read this email. I asked Spirit to work through me. To choose the cards and then share the messages of divine guidance for the highest and greatest good of all, better than you could ever imagine. May you be open to receive…
*Please note that the cards I used, to the left, Toni Carmine Solarno's Angels, God and Goddesses Oracle Cards and to the right, Doreen Virtue's, Magical Mermaid and Dolphin Oracle Cards.
Your Past…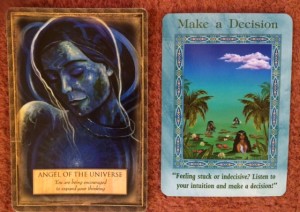 Since the beginning of this year, you have been making decisions to get unstuck, to free yourself of the old and worn out and yes, you have been trusting your intuition more and more to do so. Your intuition will always guide you, if you only stop to listen. This is key to continuing on your highest path. The divine will always work with your senses and your intuition to guide and support you with unconditional love. Its important to always remember…ask the divine to help you so intervention can proceed.
The message from the Angel of the Universe card says, "You are being encouraged to expand your thinking." Since this card is in the past, its reflecting that your decisions and actions taken this year, have initiated expansion. Its time to think bigger and let go of small thoughts about yourself. You are a divine being in this physical body and its time to embody the power and magnificence of who you are. You cannot contain your Spirit. It wants to expand and in order to expand you need to break free of what no longer serves you. Congratulate yourself for the decisions you have made in the past six months and don't look back or question them, its where your intuition guided you. Keep going and ask your soul to lead the way.
Your Present…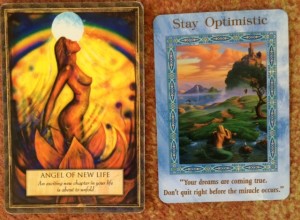 As I picked these cards, I exclaimed with feelings of joy for everyone who is reading this! The Angel of New Life is my favorite card in this deck! I even ordered the print for my office all the way from Australia because I wanted to see this image everyday.
In the present, you have entered a new chapter of your life, even if you haven't experienced all the physical manifestations of this truth. Do not question your choices and stay focused on the feeling of rebirth depicted on the image of the card. The rainbow above and all the light surrounding you, is to empower you to believe, feel and know beyond any doubt, that you have created a new beginning.
The card to the right, Stay Optimistic is a message and a seed of faith being planted in your heart. It says, "Your dreams are coming true. Don't quit before the miracle occurs". This guides you to trust your intuition and your angels. Have faith and know that you are on the right path and there is so much more to come!
Future…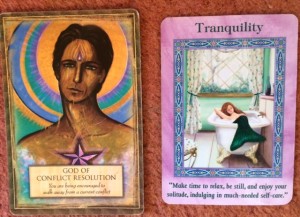 As you continue on your sacred path of new beginnings and following the guidance of your intuition and your divine support, know that some of your decisions will not be embraced and understood by others who walk the journey with you. The God of Conflict Resolution card shares, "You are being encouraged to walk away from a current conflict". Where this card falls into the future, a challenge may present itself where you are being asked to stay true to yourself and to make decisions from your heart and soul's calling as you enter your "new chapter". It is not your calling to convince others of your path, your choices, and what feels right for you.
When challenges arise, take time out! Find your secret spot of Tranquility and "Make time to relax, be still and enjoy your solitude, including much needed self-care". Ask the divine to surround you, support you and guide you to the divine resolution of this conflict, for the highest and greatest good of all.
Sometimes, you will need to step away from those relationships that cause conflict in order to truly know Thyself and to initiate new beginnings (especially our path of tranquility). Its perfectly OK and essential to take time out, so you can discern whats best for you. You are changing from within and therefore the outer reflection of your relationships is going to change. Give yourself permission in the midst of transformation to surround yourself with those that support and encourage you, both on earth and in heaven.
The Outcome..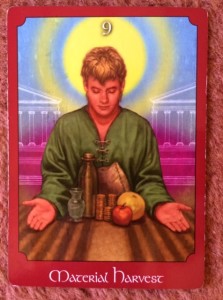 From John Holland's Psychic Tarot Oracle Cards, "What you sow, you reap. This card states that this is your time to reap the harvest you've work for." No better way to conclude this reading. I hear loud and clear, "It will be all worth it!" Your courage to let go, move forward and follow your True path and the calling of your heart. The time is arriving to enjoy all you have strived for. This card also has the number 9 signifying completions and endings. Bless your past, embrace the wisdom you have gained and be grateful for the gifts of the present and the future. See the light on this card and know that you are glowing in the light of your Spirit and the infinite possibilities of who you are becoming.
My wish, is that this reading has gifted you exactly what you needed for clarity and peace for your highest and best. If you would like to receive furthue guidance, direction and healing from the divine, please visit my Angel Reading page on my website to learn more and book your session.
With gratitude and blessings, Karen