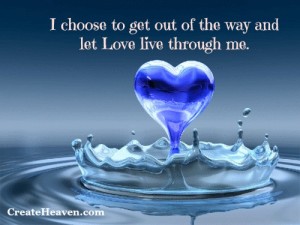 For the past 40 days I have been committed to writing and meditated everyday. In the past, I have facilitated my 40 Day Journeys with groups of participants but this time I knew I had to do it on my own. It was too personal, too raw. I knew I had to be honest, open and vulnerable in order to connect with a lifelong inner war with my body image. Sound familiar to many of you? I was so tired of this confusion and it was the only piece holding me back from feeling inner peace, but it was a big piece.
As the journey unfolded and I reached down deeply into myself and allowed myself to be vulnerable and feel, I began to unmask everything that was no longer true, which included many of my beliefs, what I was told about my body and food and the heavy expectations of being "perfect" from both family members and society.
What I didn't expect, was the journey revealed my anger, confusion and feelings of separation from God. A full circle experience back to my Divine Self.
I am not sure if I will go public with this journey yet and I will wait for guidance if this is in the highest and best. Yet, I wonder if my journey is true for many and the peace that I found on this journey is the peace that many can choose.
I did receive guidance to share Day 35 with you. When I was guided to do so, I emailed the note to myself to blog about it and and when I opened up the email the next day, I realized I had sent it 4:44, so I knew I need to follow through.
Dear God….
I am sorry I strayed from home for so long. I felt a feeling of not being able to live up to the standards I thought you expected from me. When I was really scared and feeling alone during my time with cancer, the memory of home came to me during my first meditation. My guardian angel sat with me and reminded me that I was never alone and she was always there for me. I was desperate, so my need and curiosity invited her into my home and I started to feel and allow unconditional love to comfort me and guide me through the fear.
Then the Blessed Mother Mary welcomed me into her home and I once again remembered the feeling of unconditional love. I grew to trust her and rely on her especially when I drifted farther away from home. I would call out to her and she always came, leading me back home to revisit the feeling and experience of unconditional love. She is my mother of unconditional love and I know how blessed I am to have reawakened to receive and remember this love.
I was not so sure about welcoming Jesus into my home or visiting the home of Jesus. Religion was ingrained in my consciousness, which created confusion about who he was, and then when I would explore other churches I would hear, You can only be welcomed into the Kingdom of God through Jesus and this angered me. Growing up Jewish, this did not feel true. All I could visualize is them closing the door and all the Jews and those that did not believe in Jesus, would be locked out. Therefore I did not feel welcomed in the home of Jesus.
Then I continued to feel Jesus come to me as a friend, a brother, someone who cared for me. He was so gentle in my spontaneous encounters with him, yet, they were also profoundly powerful. This continues to be the way. I felt it was up to me to welcome him in the home of my heart. Now I feel him and trust him as one with me.
This journey has brought me back home to God. I don't just have just one foot in the door, I have stepped fully through the doorway and I want to reside there and truly feel at home.
I feel so peaceful in my earthly home and I desire to feel infinite peace in your home and then I hear, our home…. Mi casa, su case, my house is your house
I feel I have been journeying across a rainbow bridge, guided along the way, meeting or being visited by these divine helpers to stir up the remembrance of home, of love, and the Truth that; here is there and there is here. Each time I made that connection, I felt at home, loved, supported, guided and safe. I would love to hold the hand of others or just meet them along their journey across the rainbow bridge leading back to home, just like my divine helpers have done for me. Work your love and magic through me to be of service for their greatest good. I surrender fully for you to do so.
I knew, many, many, years ago that the experience of Heaven on Earth was truly possible. My desire is to embody this Truth here and to live in your home on earth. I am no longer afraid. I am no longer resistant. I no longer want to wander. I just want to be at home, living in oneness. I believe there is only one home and I desire to know this as the Truth. Can you show me beyond any doubt that this is so? Can you show me beyond any doubt that you don't have to die or suffer to re-member? This knowingness will deepen my connection to the feeling of home and I ask this with love and desire.
God, I have experienced visitations from your Divine Family and I am so grateful and I ask, can you gift me with the knowing of your presence and the feeling of your Truth beyond any doubt. I desire to know you like Christ knows you. Trust you like Christ trusts you. Feel you like Christ feels you. I am ready and willing to journey into this sacred oneness.
If I am honest, I just want to feel, know, and experience beyond any doubt, the oneness of your love and presence. Again, as I ask and write this, I feel fear that I am not worthy of receiving this but I ask the Holy Spirit to remove any and all obstacles because I believe I am divinely worthy and I am ready to allow and embody my divine worth and so it is
One more honest confession, I am afraid you will not answer my call and I will be disappointed but again. I do not want to allow this to impede. Holy Spirit intervene and clear the way to this holy encounter of oneness. And so it is.
Blessings, Karen